9 Questions your boss might have about SEO.
Estimated Read Time:

5 minutes
You're interested in SEO, and you recognise the benefits it will have for your business, but now you've got to convince your boss. They don't know much about search engine optimisation and they'll probably be cautious when investing your business's marketing budget into a new strategy. So we've put together some questions we think your boss might have about SEO, and included the answers, so you can get them on board.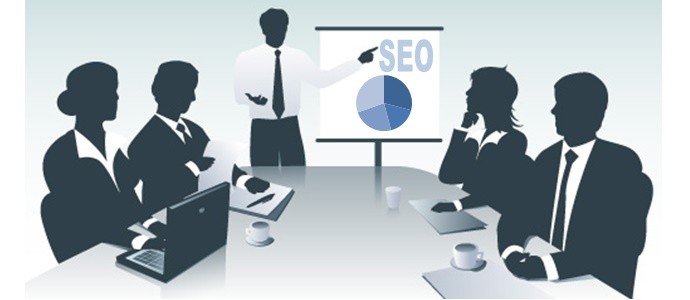 Image adapted from Wiki.
1.     What is SEO and what does it offer our company?
SEO stands for Search Engine Optimisation and is a form of digital marketing aimed at increasing your website's exposure in search engines. It's a form of inbound marketing so, if executed correctly, it will direct converting visitors to your website. It will also increase your brand awareness within the market and reveal new untapped market opportunities.
2.     Why should we invest in SEO?
Compared to other digital and traditional marketing, an SEO campaign is extremely cost effective for the return you will gain. This is why your competitors and industry leaders are most likely investing in it. SEO is both digital marketing and online PR, which means that you won't just increase sales, but your business will also develop a strong and positive presence in the online community.
3.     How much will it cost us to get results?
As with any form of marketing, you get what you pay for. So the more you invest, the more you will gain. It is important to understand that SEO is an investment and does not deliver instantaneous results. What you will gain will depend on a number of varying factors, such as your business goal, strategy, market trend and market saturation.
4.     Is SEO right for our company and customer base?
Many organisations are hesitant about taking the leap into digital marketing, or expanding their existing online activities, but SEO can benefit any business. Your customers are becoming drastically more tech savvy, with mobile searches and e-commerce significantly increasing in popularity. Search engines are the new yellow pages, so if you expect new customers to find you, you'll have to adapt.
5.     When can we expect to see results?
At the beginning of your SEO campaign, you will see a jump in the progress of your website's performance in search engine results pages (SERPs). You shouldn't be alarmed when, after the first month or two, this progress dies down as it is expected. Then, through effective white-hat* SEO, your website's performance will increase again after a few months, which will develop a long term advantage.
6.     Can we not just improve our existing website?
Yes. You could just employ a conversion rate optimisation strategy on your website, however this will not allow you to achieve the full potential of your website. It will successfully increase the proportion of visitors that go on to become a customer, so it should still be considered, but unlike SEO it does not drive new visitors to your website.
7.     Can we just pay to be at the top of Google?
You do have the option of pay-per-click (PPC), which is paid search advertising through Google Adwords, whereby Google will make your website rank in SEPRs for selected keywords that you have to bid for, you then pay for each user that clicks through to your website. Unless managed by a professional with in-depth knowledge and experience with Google adwords, a PPC campaign can be costly and will not have the same reach as an organic search campaign. Find out more about Paid advertising here.
8.     Can We Just Pay for Cheap SEO?
NO. Some SEO agencies offer cheap campaigns, but you should be cautious as these are often agencies that employ black-hat* SEO techniques. Although they may offer a temporary benefit, the repercussions are guaranteed to have a long-lasting impact that could devastate your website's online reputation and inbound search traffic. Because of the ever developing standards and expectations for SEO and the evolution of search engine algorithms such as Google Panda 3.0, you should invest only in ethical and white-hat* SEO or risk being penalised by search engines.
9.     Is SEO something we can do In-House?
Although SEO can be done in-house, it is only recommended under the guidance and management of an experienced SEO expert. This is because of the ever evolving world of SEO and changes forced by search engines like Google. Even then, it is often more suitable for a company to outsource SEO to a digital marketing agency with experience in delivering bespoke SEO campaigns.
MRS Web Solutions are a digital marketing agency based in Hampshire, with years of experience in delivering ethical online services. We only employ the latest white-hat SEO strategies in our campaigns and target niche areas to maximise our clients' ROI. We encourage new clients to begin with our 'Business Package' SEO Campaign which allows us to deliver visible results ASAP. However we also offer a 'Professional Package' for clients want to trial a budget SEO campaign before committing. We can also offer 'Bespoke Flexi packages' tailored to suit your business and budget requirements.
Use our Free SEO Ranking Tool to show your boss your current performance in SERPs.
Contact us today for more information about SEO or view our SEO information here.
*Black-hat SEO – Unethical, & only offers short term return with devastating backlash.
*White-hat SEO – Ethical, abides by industry code of conduct & delivers durable results. 
Get the latest news from MRS