How to Guide: Integrate your Social Media Marketing
Estimated Read Time:

5 minutes
It's important to tailor your social media marketing campaign to the specific social platform used in order to achieve the highest ROI possible. But this is not always an option, especially for local SMEs. Regardless, some brand exposure is undoubtedly better than none, which is why integrating your Facebook and Twitter accounts could benefit you.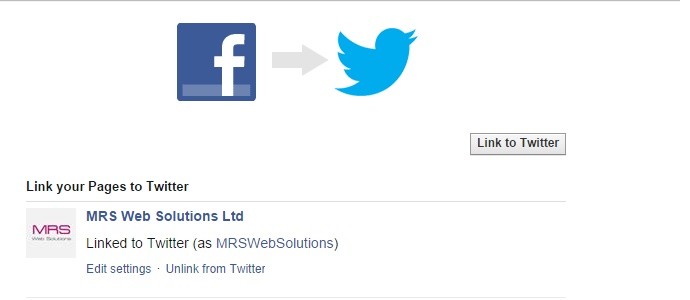 The updates and posts you make on one social platform are simultaneously posted on the other. Unfortunately, functions like hashtags and direct messaging/tagging are not carried over to the other platform which limits the reach of your material. The instructions below will allow you to set up cross-posting for both social networks by posting on one.
Go to your settings menu's profile tab (the link above).
Scroll to the bottom and click sign in to Facebook and connect your accounts.
When prompted, select the privacy settings for who will see your tweets posted to your Facebook wall. It is set to public by default.
Click log in with Facebook and enter your Facebook login credentials.
Click on allow to accept permissions
Open the link above
Log in using your the Facebook account details with access to the desired page
Click on the link to twitter button next to your desired account.
Optional – Use the edit settings function under your account widget to select the forms of media you wish to share on Twitter.
Making the most out of your social media marketing
If you're unable to sustain an ongoing, comprehensive and targeted social marketing strategy, then integrating Facebook and Twitter (two of the most popular social media networks) is the least you should do. Applying a system of cross-posting, will allow you to access audiences on both social media platforms while concentrating on a single one.

Many SMEs don't have the time needed to execute a comprehensive social marketing strategy, which is why many seek the expertise of a social media marketing agency. Unfortunately, there's also a number of SMEs without the budget to hire a digital marketing agency, but who still wish to engage in social media.

If you're interested in developing a comprehensive social marketing campaign to attract new customers, then we don't recommend using this technique. However, if you're using social media purely as a channel of information to inform your followers about news and updates, this could be beneficial for your business. One thing is for certain, a presence on social media is necessary for almost any business in this social driven market place.

Contact us today to see how a complete social media marketing campaign can benefit your digital marketing.

MRS Web Solutions are a digital marketing agency in Hampshire and have been providing bespoke social media marketing campaigns for years. We use targeted social media marketing to identify and engage with specific target audiences to maximise our client's success and exposure. 
Get the latest news from MRS