Project: Web Design
Shuttercraft empowering an entire franchise network
A conversion-driven website empowering an entire franchise network
Shuttercraft, one of the UK's largest providers of premium shutters and blinds, wanted to refine their web presence. With a network of franchises across the country, each with their own website, Shuttercraft aimed to bring these into one unified experience.
The migration of multiple sites needed to be carried out with minimal impact on organic presence. Reduced disruption and a sensitivity towards existing search efforts was critical for this project.
Above all, Shuttercraft were looking to take their website further in terms of lead generation. Their desire to boost conversions through enquiries on their website was integral to their brief. The ability to capture leads at new levels would deliver real potential for Shuttercraft and its network of franchises.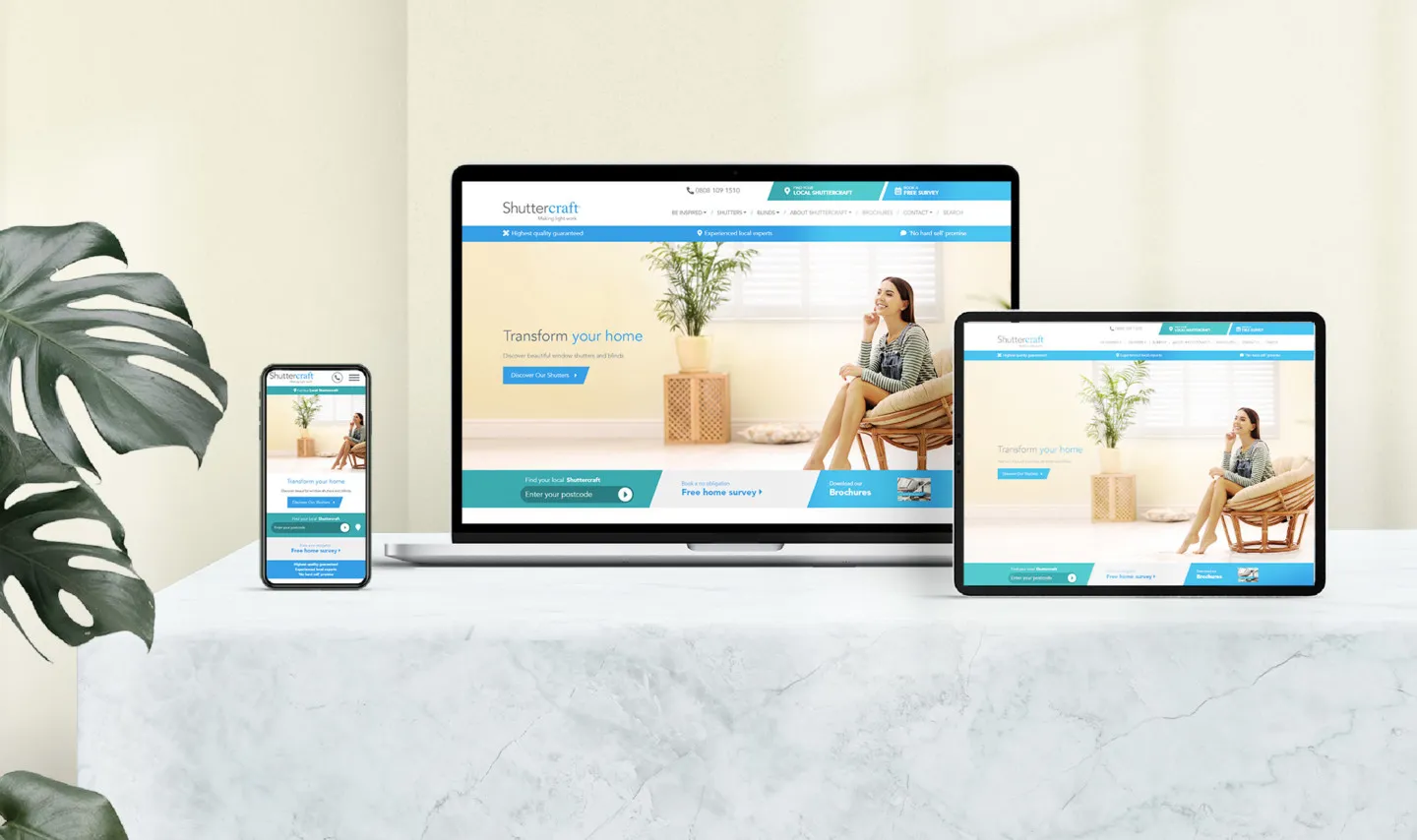 +36%
increase in average session duration for organic traffic
+88%
increase in overall conversion rate
+304%
increase in conversion rate for organic traffic
The Solution
Driven by a strategic planning process, a new website was created that combined all previous franchisee websites. Data-led design was applied alongside analytical insight to deliver a focused user experience. Data and heatmapping on key conversion points from the original website were extracted and improvements were made to focus on increasing on-site enquiries.
The new Shuttercraft website maintains a strong, branded presence and encompasses all franchises equally. Unique session-based data ensures that all leads are captured and correctly funnelled to their local franchise with no disruption to the user experience, whilst protecting franchise territory borders

Built using the latest WordPress technology, the content management system allows updates and edits to be made with speed and ease. This ability was critical for the Shuttercraft team and ensures a well-maintained website that is scalable with their business.
The Result
Within the first 3 months of launching the new Shuttercraft website, we recorded an 88% increase in overall conversion rate, from 2.6% to 4.9%. Working closely with Shuttercraft to understand their brand and objectives has resulted in a website that delivers on all counts and we have seen a 67% increase on completion rate of their 'Book a Free Survey' form.
Following the website launch, the average session duration has increased by 36% for organic traffic. More specifically, conversion rate for organic traffic has increased by 304% from 1.63% to 4.96% (averaged over 3 months before new site to 3 months after launch).
The new website was launched successfully and on time. With this came the opportunity to expand our relationship with Shuttercraft further across our services, including PPC and CRO, and has allowed us to continue to deliver positive results right across the business.