Here at MRS Digital, we've always got something going on! Aside from the occasional social media post, we don't often get to share the good news with everyone, so that's what we're doing today.
When you're in the midst of it all, it's often hard to see all the fantastic things going on, so it's been a joy for us to collate this.
So, without further ado, let's begin!
New, new, new.
We've onboarded some lovely new clients recently, who we're delighted to be working with. From timber yards to storage companies, we're working with a full range of businesses looking to grow exponentially.
With more clients comes a need to expand our team, ensuring every client receives the levels of service we pride ourselves on. We've recently welcomed Claire into our PPC team, Tom into our Insights team, with Steve completing the set for our SEO team!
From clients to new team members, our new additions are settling in, so keep your ears to the grapevine for their successes, which we'll be sharing very soon.
Someone call the carpenter, we need a bigger shelf!
Clean sweep, brought the house down, knocked it out of the park. Any saying that means total success; that's what we aimed for and that's what we got!
On the 21st September, a group from MRS attended the UK Agency Awards, at the incredible Sheraton Grand, on the prestigious Park Lane. It's a truly magnificent Art Deco building and the perfect setting for what turned out to be a fantastic night.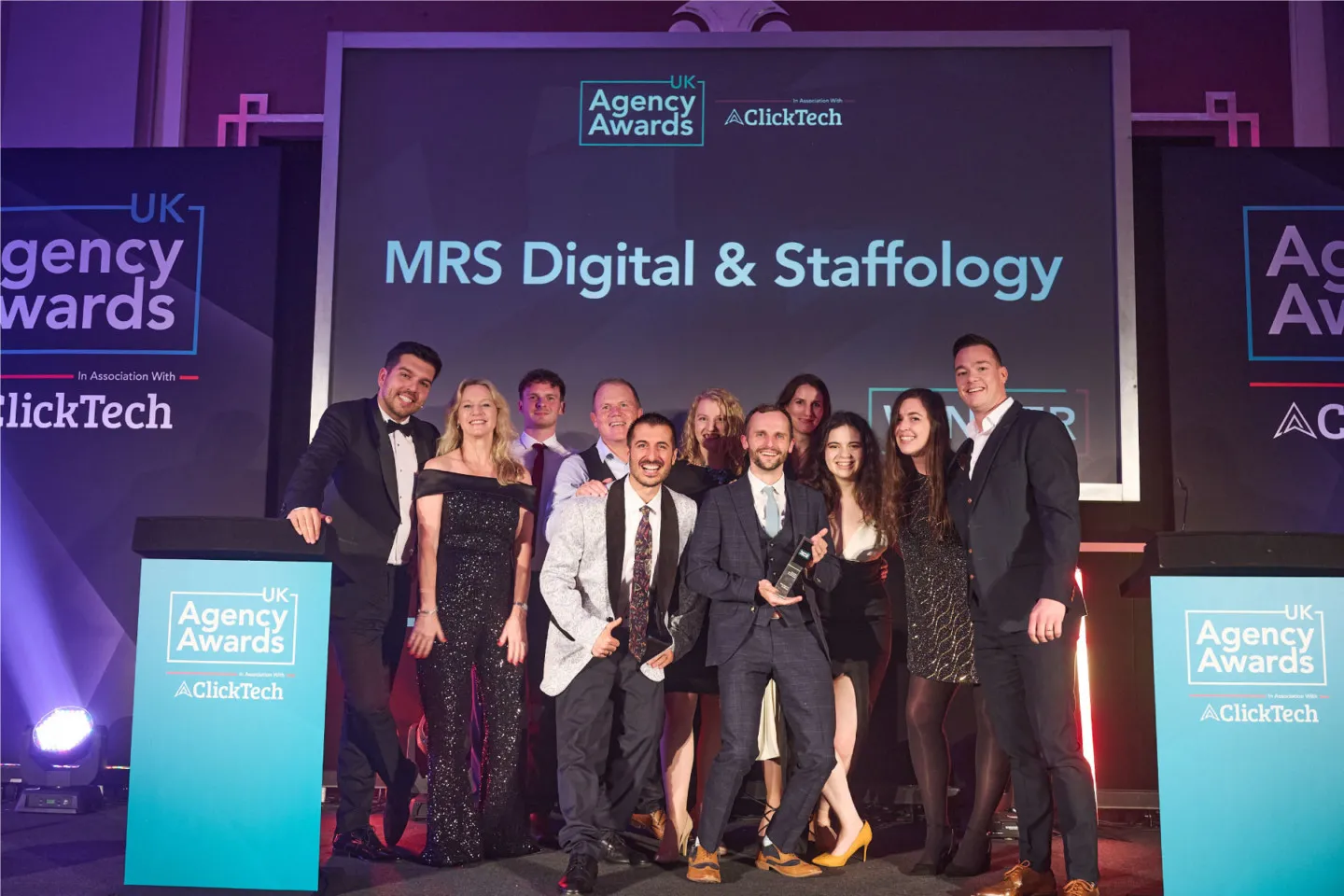 We brought home the tin and won the Campaign Effectiveness Award (Large). Awards like this couldn't be won without the continued hard work and dedication that our team puts in day in and day out.
But, wait, we're not done yet…
Can I get a drum roll, please?
The European Agency Awards are just under a month anyway, and we're nominated for another five awards! Yes, FIVE. That's 10 award nominations across two events, and we've still got plenty of time left this year and many more campaigns to run. So, watch this space.
Moving on up
It's not just the new and exciting things we want to celebrate, it's also our team members who have recently received promotions.
Ryan, who is probably a familiar face (or voice) for many of our clients is now our Head of Client Success. He is also nearing 10 years with MRS. We asked Ryan just to give us a little snapshot of his thoughts.
Here's what he said, "As we near becoming a 40-person agency, it's brilliant to look back on everything we've achieved over the years, and to have it be acknowledged by the business is so rewarding as well." Congratulations Ryan, a job well deserved and well done!
Our very own Jade is now our Senior SEO Manager. But, that's not her only big achievement this year; she's changed names as well. Back in July, Jade got married to the man of her dreams in a jaw-dropping countryside setting. Some of the MRS team were lucky enough to be in attendance for what was a beautiful day. Congratulations Jade!
Finally, although it's been in place for a while, we wanted to give Emily a cheer for being promoted to Head of Insights. As Emily does best, we asked her to give us some insights into her time with MRS Digital and what she'll provide for our customers.
She said, "As the importance of data becomes the forefront of all activity we do, it is vital we offer our clients services that enable them to trust their data and provide actionable insights to enhance their marketing activity." We know exciting projects will be delivered by our Insights team, and we look forward to sharing the successes with our clients.
Celebrating client success
One of the clients we've been working closely with is Boori. Boori, a baby furniture company that began in Australia, asked us for help with their UK expansion. Our work has primarily consisted of PPC, with some analytics work as well to help improve their understanding of the areas they need to expand into.
Amy, their eCommerce manager, recently sat down and talked to us about what it's like working with MRS, the success they've seen with our approach to PPC, and why she'd recommend working with us (you can't see it, but we're blushing)
Watch what Amy said here:
Want to work with (or for) us?
Now you've read all these major successes at MRS, you're probably thinking "wow, let's work with them!"
Luckily for you, we're always looking to hear from exceptional people or businesses who want to grow.
Even if we haven't got any roles we're actively recruiting for, please do drop your CV over through our careers page, and we'll get in touch to discuss what you're looking for.
Or, if you're a business that's looking to work with a marketing agency that produces results you've only dreamt of, drop us a call on 01252 622722 or get in touch.