Concluding 2021, December was another month of big headlines in search. Not only are new resolutions drawn up, but most are looking to Google to understand how its many changes and plans will impact their webpage rankings – and, predictably, there was plenty of change. From updates to local search results, to new metrics coming in the near future, here's all the top stories that unfolded in December.
December Concludes a Previous Update – Here's What We Learned about 'Vicinity'
Another month, yet another update. Google has announced that a previous algorithm update impacting local search results, which rolled out on the 30th of November, concluded recently in early December. This was a planned "rebalancing" of ranking factors that Google consults when it determines local search results.
Even though we first wrote about this update in November, the changes were likely unfelt until later on. Many were previously referring to this update as November '21 local search update, but much of its influence wasn't noticed until December, where it was later coined the 'Vicinity update'.
This is what was said on Twitter:
Our November 2021 local search update has concluded. It began Nov 30 and ran through Dec 8. It involved a rebalancing of various factors we consider in generating local search results. General guidance for businesses remains the same as covered here: https://t.co/uyXFfmUEIR

— Google Search Central (@googlesearchc) December 16, 2021
Google's guidance suggested that SEOs should carry on following known best practice for local SEO. Whilst the new 'rebalancing' is still somewhat unknown, where the SEO weight of factors remains unclear, we should still pay careful attention to the key areas:
Relevance
Distance
Prominence
It's worth bearing in mind that these changes should have only impacted your Google Business Profile rankings within the local pack, however we have seen data showing otherwise. We have noted some sites' organic rankings (outside of the local pack) shifting dramatically from 30th November – perhaps where the algorithms are utilising proximity to a certain extent. If you see any local ranking changes from the start December, it was very much likely an impact from this 'rebalancing'.
Heads Up, A New Core Web Vital is on its Way
Just when it seemed that the community began to understand and navigate Core Web Vitals (we've explained CWV here), Google announces plans to introduce another metric. In early December, addressing the state of things, one article appearing on HTTPArchive drew in attention for observing how the First Input Metric (FID) had lost its meaning, and that Google was developing another metric in its place.
For those who don't know, FID explains the speed at which a browser can respond to a user's interaction, which could include things like clicking on a button on your website.
However, the author of the article noticed a trend, writing:
"The fact that almost all platforms manage to deliver a good FID, has recently raised questions about the strictness of this metric." 
It goes to mention how a new responsiveness metric might replace FID in the near future, noticing how:
"The Chrome team recently published an article, which detailed the thoughts towards having a better responsiveness metric in the future." 
The speculation of a new responsiveness metric has caused many to ask if FID will remain, or if it's likely to be phased out for something more challenging. In the meantime, watch this space to find out how the story develops.
Google Changed Search Results for News Stories (on Desktop Only)
When two or more sites are reporting headlines on a similar story, Google will now group results. The update changes the way news stories from multiple sites and authors are displayed within the search results, by grouping stories of a similar nature or query together.
We initially rolled out this new way of viewing news on Google Search in 2019 on mobile. Now people who search on desktop globally will get this new experience. Learn more about the technology behind this update ⬇️ 4/
https://t.co/oOCX4iTZVP

— Google News (@googlenews) December 7, 2021
Previously, results for news stories would have been displayed in a carousel, called the "Top Stories Carousel". This update, however, aligns results like how news gets displayed on mobile, which changed back in 2019.  
What's Changed?
Rather than preview news in the traditional carousel format, news headlines of a similar nature are more contained to groups, which means similar stories don't overcrowd the search results. The idea is to more smartly "organise" results, helping users to navigate stories and headlines more easily.
Google's News handle tweeted the timely example of COVID-19 vaccinations, which are displayed as follows when you search for the term 'Covid':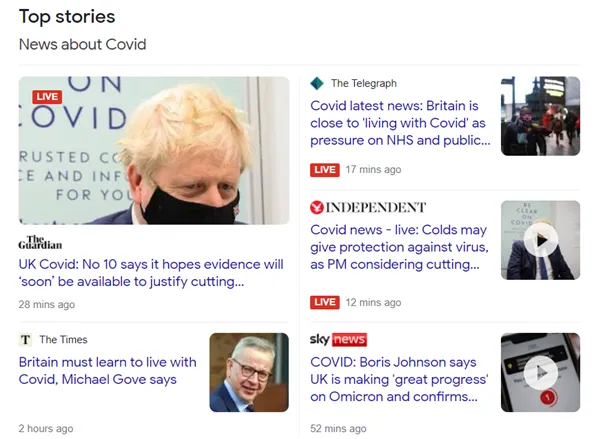 Your Site will Deindex if its Downtime Exceeds a "Couple of Days"
If your site is found to be down for more than a couple of days, then Google will begin to deindex your webpages from its search results.
It was confirmed by John Mueller, Search Advocate at Google, that having your website down for more than a couple of days will have a negative impact on your rankings. Furthermore, if your webpages become inaccessible for multiple days, then the risk of de-indexing increases.
Mueller says that any downtime, planned or unscheduled, will likely lead to pages being deindexed. Even a 503 code is only a temporary band-aid on outage time, and this shouldn't be relied upon as a permanent solution.
Mueller states:
"For an outage of maybe a day or so, using a 503-result code is a great way to tell us that we should check back. But after a couple of days, we think this is a permanent result code, and we think your pages are just gone, and we will drop them from the index."
The key takeaway of this isn't simply about extended outages – Mueller clarifies how, after dropping pages from its index, there's simply no guarantee of page rankings returning the same way as before:
"And when the pages come back we will crawl them again and we will try to index them again. But it's essentially during that time we will probably drop a lot of the pages from the website from our index, and there's a pretty good chance that it'll come back in a similar way but it's not always guaranteed."
Site owners need to be cautious about planned downtime or unscheduled outages, because the time it takes to recover deindexed pages is longer than the time your site will have been down for.
December 2021 Product Review Update
December 2021 was the month that Google aimed to roll out its Product Review update, targeting English language webpages. The overall focus of the update was to improve how reviews are displayed against products.
Our December 2021 product reviews update is now rolling out for English-language pages. It will take about three weeks to complete. We have also extended our advice for product review creators: https://t.co/N4rjJWoaqE

— Google Search Central (@googlesearchc) December 1, 2021
Taking product testimonials seriously, the search giant even released two revised best practices for the future in its blog post titled "Product reviews update and your site".
If you frequently write product reviews on your website, you should make sure that your reviews:
Offer evidence (such as videos), which support the "authenticity" of a review, along with any expertise.
Embed multiple links to different sellers, so that the end user has more options for future purchases.
Essentially, Google is trying to make reviews seem authentic and, therefore, even more helpful to the end user. But Google is also advocating that reviews include multiple links to products, democratising the way users find services and products around the web.
Search Results Were Up to 85% More Volatile in 2021
If you noticed changes in your rankings in December, you're likely not the only one. According to data collected from SEMrush, which was later published via Twitter, volatility in search was recorded higher in 2021 than previous years. With 2021 proving to be a tumultuous year, it's no surprise that the same data shows how December was the most volatile month in search so far (and probably in Google's history). This month, there have been numerous "tremors" being reported in the industry, including the confirmed Google product review update.
Here's how this change looks in numbers:
Google search results were 68% more volatile on desktop in 2021
Google search results were 85% more volatile on mobile in the same year
Here's the data, as revealed on Twitter:
If you're following @rustybrick's algo update coverage he's pretty tired of reporting on these all the time!

It got me thinking: Are things more volatile than they were?

Pulled some @semrush data & it seems… YES!

We see a huge increase in the % of volatile days in '21! pic.twitter.com/vmTP5vtaJh

— Mordy Oberstein (@MordyOberstein) October 19, 2021
"Rank volatility", as one Twitter account noticed, has been more than just suspicion and hearsay for the year of 2021. The intensity and volume of confirmed and unconfirmed algorithm updates has shaken the rankings across mobile and desktop platforms alike.
If you experienced significant ranking and performance fluctuation once again in December 2021, make sure to take a step back and look at the bigger picture – check the timeline of confirmed updates to try and identify where the fluctuations have occurred. Was it when the local update happened for instance? Is it across the board or confined to a specific section of your site? These investigative steps are key to helping you find where best practice needs to be revisited.
New Year, New Rankings
If your resolution for 2022 is to grow your business' visibility on Google (or help it recover from the rollercoaster that was 2021), then speak to our award-winning team of experts. Our SEO and PPC services, including Google Analytics setup services get you the support you need.
Chat to our team today to find out more.