Whether you're brand new to the world of SEO or a seasoned professional, there's no doubt that Google Search Console offers a whole host of benefits you need to be making the most of. From monitoring your visibility in the search results to understanding how Google is really reading your site, Google Search Console is invaluable. Read on to discover the benefits of Google Search Console and how you can harness them today.

What is Google Search Console & What is it Used For?
Put simply, Google Search Console (GSC) is a free tool from Google which allows you to monitor and analyse your website's search traffic and performance. Google Search Console can be used for monitoring your site's organic visibility, gaining insight into your keyword performance, analysing your top performing pages, and accessing a whole host of useful SEO tools (and that's just naming a few!).
A truly indispensable tool for search engine optimisation, Google Search Console is designed for users to understand how Google sees their site, and how to improve their SEO.
Who Uses Google Search Console?
From business owners to developers and everyone in-between, Google Search Console is a user-friendly tool designed for a wide range of users.
As a free, accessible tool with a broad range of features, Google Search Console can be used at a top level for general findings for business owners, for example, or more in-depth analysis for web developers or SEO specialists.
But no matter your role or why you may be using it, there are endless benefits to be had with Google Search Console…
Benefits of Using Google Search Console
1. Monitor and Enhance Organic Visibility
Kicking off the list is the ability to monitor and enhance your organic visibility with Google Search Console. Put simply, organic visibility is how visible or present your website is in the organic search results of search engines and analysing it is the key to improving it!
Whether it's through comparing dropped clicks Year-on-Year, performing internal link audits, or enhancing crawl equity, the ease of monitoring and subsequent actions is highly valuable to have in your toolbox when optimising for search.
You can learn a little more about how Google Search Console can help with organic visibility from Google themselves:
2. Understand Keyword Performance
Next up is one of the most-used features of Google Search Console (in our circle, anyway): top queries. Under the performance tab of Google Search Console, you'll find search results queries, allowing you to analyse your top queries, or keywords.
With the ability to sort and filter your top queries by clicks, impressions, CTR and / or position (not to mention the ability to filter further by date, query, page, country, device and even search appearance), this function provides real insight into the keywords that are ranking and driving performance for your site.
3. Analyse Your Top Performing Pages
Another excellent feature you're bound to use again and again when it comes to Google Search Console is top performing pages, another report found under the search results function. Assessing your site's top performing pages is a sure-fire way to see what pages are performing most in search for you, providing a breakdown into clicks, impressions, CTR and position. Here lies excellent information to decide where your wins are coming from, or where you might need to focus your next optimisation…
4. Receive Valuable Alerts
A feature designed for those short on time or managing multiple accounts at once, receiving alerts when something is askew is a game changer for many, whether you're managing the account at a top level or an SEO. Google Search Console messages will notify your email when issues are detected whether security or a crawling issue for example. This is such a valuable feature of this tool and can make managing your site (or multiple sites) a lot easier!
5. Gain Insight into Indexing
Want to find out what pages, or how many, are being indexed (or not indexed) by Google? Google Search Console holds the answers. Under the Page Indexing tab of GSC, you'll see a breakdown of how Google is indexing your site. You'll be able to see which pages are:
Crawled but currently not indexed
Discovered but currently not indexed
Excluded by a 'noindex' tag
And that's just the tip of the iceberg. Alongside this, you can also analyse status errors of your pages, canonical statuses and more, including: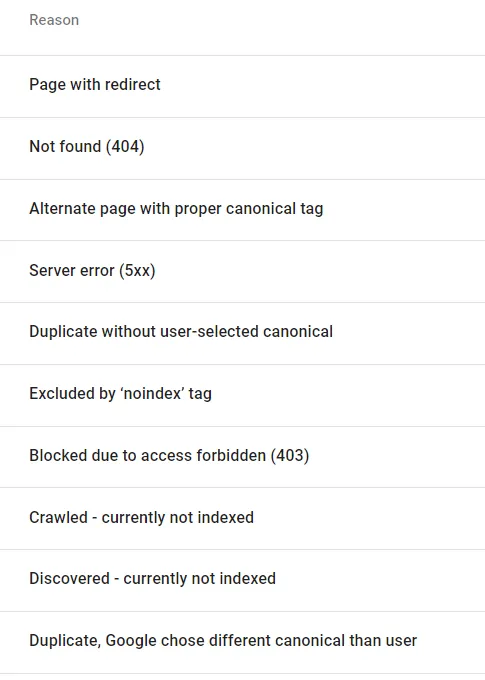 6. Improve Your Core Web Vitals Score
With more and more focus on Core Web Vitals and their role in your site's performance, and ultimately your user's experience, we should all be turning to whatever resources we can to enhance our scores. Google Search Console's Core Web Vitals is the perfect way to do so.
Providing a report of both Mobile and Desktop Core Web Vitals performance, you can see exactly how Google is scoring your URLs for both device: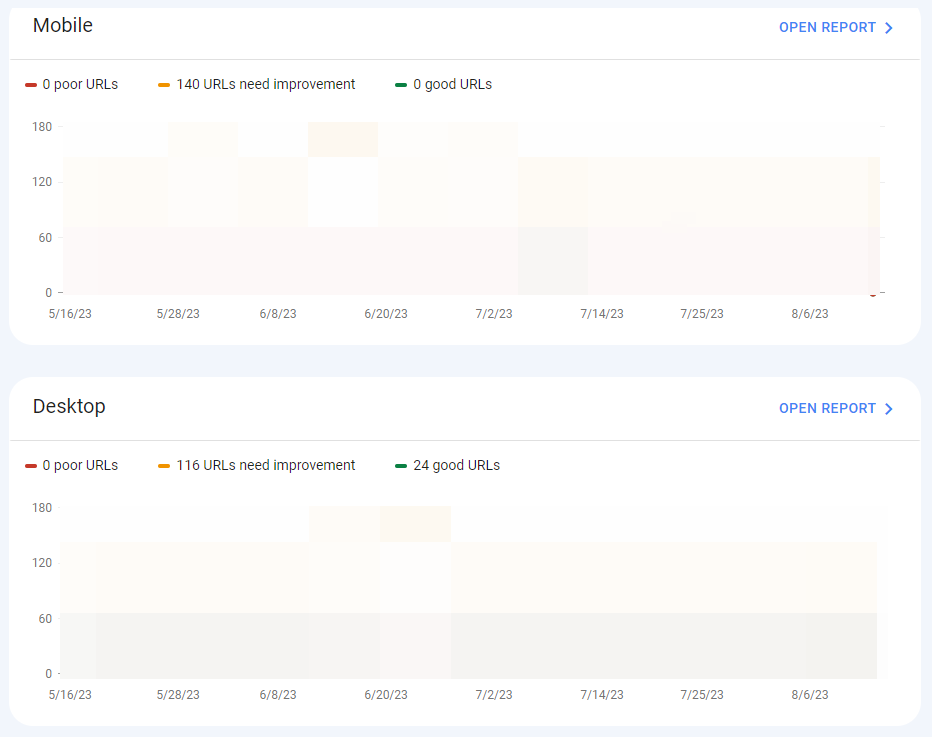 *data anonymised
Not only that, but when you dive deep into the report, you can also gain insight into why URLs are scoring what they are, providing a severity scoring, identifying the specific issue, the trend and the URLs impacted.
So, no matter which Core Web Vitals metric may need improvement, understanding where your web design and functionality may be getting in the way of organic visibility is key for any SEO strategy and this report is an excellent tool to make that happen.
7. Essential SEO Tools In One Place
The features mentioned above really are just the start of what Google Search Console has to offer. Arguably one of the biggest benefits to Google Search Console of all is the ability to access (nearly) everything you need in one handy location.
Other features available in Google Search Console include, but certainly aren't limited to:
URL inspection tool for checking indexing, mobile usability and more
Sitemap checks for seeing discovered URLs and their status
Mobile usability report for seeing why pages may fail on usability
So if you're after a one-stop tool to cover the bases, then Google Search Console is definitely one to keep favourited!
Google Search Console vs Google Analytics

While you may notice similarities between Google Search Console and Google Analytics, they are different tools and should be used alongside each other as part of your SEO strategy, not independently. The key differences are that Google Search Console measures your site's general performance in search, whereas Google Analytics breaks down user behaviour too, and considers other digital marketing avenues such as email and advertising campaigns for example.
For example, Google Analytics can provide a breakdown of data such as traffic acquisition by different channels through tracking implementation, information Google Search Console can't readily provide for your site. Using both in tandem is a sure-fire way of gaining visibility across your digital marketing efforts.
Climb the Rankings with MRS Digital
Want to optimise your site for search but not sure where to start? Look no further. Our team of experts know exactly what tools to harness alongside your SEO strategy, getting you to the top of search. Get in touch today to discover how.