The end of Universal Analytics (UA), the previous generation of Google Analytics and likely the version that you have been using for the last 10 years, has finally been announced by Google.
Whilst the latest version of Google Analytics, GA4, has been available since October 2020, UA has long been a search marketer's preferable interface. By offering a sense of familiarity and multiple benefits that many believe GA4 fails to deliver, users have been reluctant to make the switch.
Two and a half years ago, we introduced Google Analytics 4 to address evolving measurement standards and help businesses succeed. Today, we're announcing that we'll begin sunsetting Universal Analytics next year.

Learn more about what to expect → https://t.co/QPGatOiZLB pic.twitter.com/zRVkds6hir

— Google Analytics (@googleanalytics) March 16, 2022
With the official announcement from Google finally confirming suspicions, the transition from UA to GA4 leaves many concerned about how this will affect them. Whether you manage your analytics in-house or have an analytics agency, this blog will answer the questions you may be asking about the announcement, like "how long will my Universal Analytics last?"
When will Universal Google Analytics go away?
Although it may be common knowledge that Google has intended to replace Universal Analytics (UA) with Google Analytics 4 (GA4) for a while, the confirmation has finally arrived. Google have officially announced the date that UA will be deprecated: 1st July 2023.
This means your Universal Analytics properties will stop processing new website hits entirely from this date. So, if you've not set up GA4 at this point you'll have no Google Analytics tracking whatsoever. Nada. To add insult to injury, your UA data is not backed up, you will eventually lose your historic data, too.
Will my UA account be deleted?
Whilst official confirmation is still required, we advise that you act as if it will be. Google has confirmed that you will have at least 6 months from the deprecation date to access previous data stored by your UA account, but does this mean that Google will simply delete all of your historic data when the time comes? Well, we're not entirely sure, but we strongly advise that you devise a plan to extract all necessary data you require moving forward as it's not worth risking your precious insight.
Unlike Google Analytics 360, for example, UA will only allow you to export your data property as individual reports. Due to this complication, we suggest that you prioritise the data that is most important to keep. Decide what metrics or data is most valuable to you in the future. For example, you may want to prioritise your revenue data over time. Once you have done so, you will need to use the Google Analytics API to extract the data from UA to store this data outside of the Google Analytics interface, such as Google Sheets, for example. Please note that if you're using a reporting API, there may be an associated cost in doing so.
Creating and executing this plan now will safeguard you from losing important data in the event that Google will delete your Universal Analytics property.
UA vs. GA4
What is GA4 analytics and how does it work?
Launched in October 2020, Google Analytics 4 is the latest version available of Google Analytics, which is now replacing Universal Analytics. Through its sleek, stripped back interface, GA4's aim is to understand how your marketing eco-system is generating interactions and conversions as a whole. Switching from a user and session-based tracking system to an event-based tracking system, GA4 looks at marketing interaction with your business holistically rather than individual touchpoints.
Do I have UA or GA4?
You might be asking yourself: which version of Google Analytics do I have? It's simple to find out:
Find Your GA ID: Admin > Property > Data Streams > Select your DataStream > Measurement ID
If your Google Analytics OD starts with a 'G-', you have Google GA4.
Another simple way to tell is when you log into Google Analytics, the home dashboards have subtle differences between the two versions of Analytics.
Universal Analytics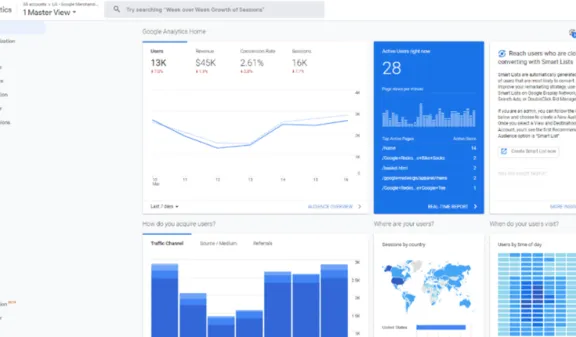 Google Analytics 4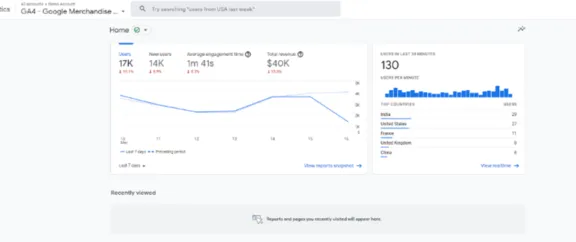 UA vs. GA4: What's the difference?
Universal Analytics
Introduced in October 2012, Universal Analytics is the previous generation of Google Analytics and a firm favourite amongst search marketers. There are many reasons users may not have made the switch to GA4 from UA. From learning new skillsets to fundamental changes in the way GA4 collects data, it is no surprise businesses have wanted to delay this switch as much as possible.
Here are just some of the benefits UA has offered to users:
Multiple views available
Universal Analytics offer multiple views, including raw data view, main view, and test view. Using different views has historically been best practice when analysing data, yet this feature is not currently supported by GA4.
In-depth reports
By providing a larger number of standard reports in the interface in comparison to GA4, UA allows you to get granular and in-depth with your reports.
Integration with Search Console
Another great benefit that kept many users faithful to UA is the integration with Search Console. This was used as a workaround to Google restricting organic keyword data in analytics. In order to enhance privacy for users, Google stopped sharing organic keywords searched by user. By integrating Analytics with Search Console, UA users were able to access wider data, ideal for SEO and organic search performance analysis. GA4 does not support the Search Console integration as yet, a key reason that many users have not yet transferred to this interface.
Data stored indefinitely
GA4 does not currently allow you to store user-level or event-level data beyond 14 months under the data retention settings. Universal Analytics, on the other hand, enables you to store your data indefinitely, an extremely useful feature for any data analyst.
Data consistency
Another reason many users may not have transferred from UA to GA4 is that this changeover is likely to result in discrepancies in how data is measured. For example, session counting is classed differently in UA, potentially leading to lower session counts in GA4. This may mean that it will appear as though your performance has taken a dip, when, in fact, it is the way it has been reported. This happened when Classic Analytics moved over to Universal Analytics and is likely to happen between Universal Analytics and Google Analytics 4.
Plug-in support
Many plug-ins currently only support one version of Analytics. If you run both UA and GA4, you can only choose one for this plug-in to access. This means many users were unlikely to make the switch as their UA account was supported by their plug-ins.
Google Analytics 4
Although many users cite a confused user interface and missing reports as just some of the reasons why they continue to use UA over GA4, the number of benefits that GA4 has to offer cannot be ignored in light of Google's announcement.
Data driven attribution model
An important benefit GA4 has to offer is its data driven attribution model. A feature previously available only on subscription-based Google Analytics 360, this data model provides a more in-depth look at data, enabling you to fully analyse your impact on conversions.
Understand your customer journey
With its event-based measurement model, GA4 will allow you to understand your customer's behaviour across multiple touchpoints. By removing the restrictions of session-based and user-based reporting on devices, GA4 allows you to understand how the user shifts between devices and channels in their user journey.
Improved privacy settings
GA4 provides important privacy updates that UA did not supply. In light of the continued discussion surrounding Google GDPR breaches, GA4 will no longer store IP addresses. GA4 is intending to address this point of contention by eliminating this personal data. GA4 also features new country-level privacy controls, allowing you to manage the collection of user-level data, introducing a new level on control of your data collection.
Enhanced insights with machine learning
GA4's sophisticated machine learning offers predictive insights, including the ability to configure predictive audiences, enabling you to predict user behaviour and subsequently conversions.
Google Analytics 360 features available
A significant benefit to GA4 compared to UA is the adoption of Google Analytics 360 features. The data driven attribution model, enhanced exploration reports and the ability to export into BigQuery were features previously only accessible with a subscription to GA 360. By incorporating these elements into this new interface, users are able to access this greatly beneficial features without the associated cost.
Combined app and web data
Google Analytics 4 combines both app and web data. By blending assets together, GA4 is able to assess the entire performance of the marketing eco-system. Tracing the full journey between different assets enables you to get a clearer picture of the user journey that UA did not allow.
Next Steps: When should I switch to GA4?
Although you will be able to access your historic data stored in UA for at least 6 months after the 1st of July 2023, we strongly recommend that you make the switch to GA4 as soon as possible. We are advising that our clients make the switch to GA4 no later than June this year, allowing them to have at least a year's worth of data in order to carry out year on year comparisons for when their UA tracking stops working.
By setting up your GA4 account now, you can prepare for the transition and ensure that no valuable data is lost. By exporting individual data reports to an external interface, when Universal Analytics is switched off, you will have like for like data to refer to for year-on-year internal benchmarking.
Concerned about the future of your tracking? Here at MRS Digital, we can offer support through your move to Google Analytics 4, be that migrations, a Google Analytics set-up service, a Google Analytics audit service or GA4 training. Or, if you just need some expert advice on GA4, feel free to get in touch and speak to one of the team.