In our monthly search update blog, we'll outline the main updates and changes within search for that month, whether they're minor or major. This month, we've seen some important updates, including the postpone of the Google Page Experience Update, the evolution of zero-click search, and more, read on to discover more on this month's updates.
Google Page Experience Update is Postponed to June
An unexpected announcement was made earlier this month which bought great relief to many SEOs and webmasters. It was interesting to see after some research done by us here at MRS Digital just over 1 in 4 websites are prepared for the update out of the top 100 websites, as determined by Alexa. Google's long-awaited Page Experience Update, which was due to roll out in May 2021, has now been postponed to start in mid-June and not to fully roll out until the end of August.
It has been said that the reason why Google has pushed back the Page Experience update is to "help you continue to make refinements to your website with page experience in mind". Although most businesses that had put the changes in place ahead of the page experience update are likely to be finished in time for the deadline, this may give additional time to companies and businesses that were not prepared.
The update will begin in June and continue to roll out until the end of August, this now enables Google to monitor for any unexpected issue that may arise during the update. Although the update is not going live until June, Google has announced they're releasing a few updates to go live this month:
General availability for signed exchanges for all webpages (more below)
Mid-June rollout:
The ranking change will begin gradually rolling out.
AMP badge will begin to go away
Top Stories carousel feature on Google Search will be updated to include all news content, as long as it meets the Google News content policies and guidelines.
AMP also not required for the Google News app nor news.google.com.
HTTPS, mobile-friendly, safe browsing and no intrusive interstitials will be part of the mid-June rollout.
By the end of August, Google said it will finish and complete the full rollout of the page experience update ranking change. This will include all the core web vital metrics, such as LCP, FID, and CLS (as well as Chrome's recent fix to CLS), as well as the ones listed above. It's a bonus to many people to be given extra time to modify their sites before the rollout. Let's hope this additional time means everyone is full prepared for the full update rollout before the end of June. Find out more about the Page Experience update here.
Google Reviews Update
Google has now released a new quality algorithm update that promotes outstanding product reviews. Google recognises and understands the importance of reviews, and that people appreciate reviews. They're a core part of what may incline you to choose a product, that's why the newest update aims to promote content with the best reviews. This update can impact performance in Google Discover, the focus overall is on providing users with content that provides insightful analysis and original research, content written by experts or enthusiasts who know the topic well, this will impact anyone searching for a particular product, and sites that write in-depth reviews on products. Google states:
"We know people appreciate product reviews that share in-depth research, rather than thin content that simply summarizes a bunch of products. That's why we're sharing an improvement to our ranking systems, which we call the product reviews update, that's designed to better reward such content. This update is going out today and only involves English language reviews for now. We believe this will further help those producing rich content in the product reviews area."
Google states this is not a core update, it's a standalone update. Nevertheless, Google did add that the advice it originally provided for core updates, "about producing quality content for those is also relevant here."
Google also provided some information for those creating content, here are some additional useful questions to consider in terms of product reviews. Do your reviews:
Express expert knowledge about products where appropriate?
Show what the product is like physically, or how it is used, with unique content beyond what's provided by the manufacturer?
Provide quantitative measurements about how a product measures up in various categories of performance?
Explain what sets a product apart from its competitors?
Cover comparable products to consider, or explain which products might be best for certain uses or circumstances?
Discuss the benefits and drawbacks of a particular product, based on research into it?
Describe how a product has evolved from previous models or releases to provide improvements, address issues, or otherwise help users in making a purchase decision?
Identify key decision-making factors for the product's category and how the product performs in those areas? For example, a car review might determine that fuel economy, safety, and handling are key decision-making factors and rate performance in those areas.
Describe key choices in how a product has been designed and their effect on the users beyond what the manufacturer says?
Source: Search Engine Land
Zero-click Google Search rose to nearly 65% in 2020, says Rand Fishkin
Zero click search is defined by search queries users input into Google which don't result in a click to a website. It was last month announced that between January and December 2020, nearly 65% of Google searches ended without a click to another web property in 2020 — up from 50% in June 2019, according to a study by Rand Fishkin, for SimilarWeb.
On desktop, 46.5% of searches were zero-click, compared to 77.2% on mobile devices.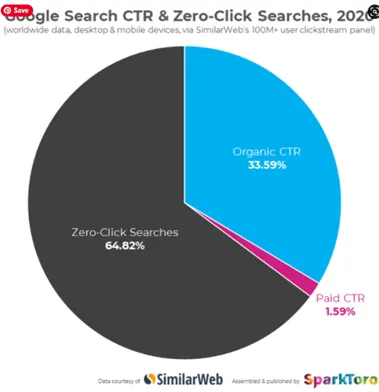 Rand's report sparked big debates within the SEO industry, which resulted in Google responding to discussions stemming from this study in a blog post published on March 24th. Google responding to this was a rare occurrence that sparked even more speculation. In the post, Google stated it was a misleading claim, and that Google sends 'more traffic to the open web every year' they also pointed out various ways people use search to find what they're looking for, but which may not result in a click to another web property:
Reformulating queries to find more relevant results.
Looking up quick facts.
Finding local business details.
Navigating from the results directly to an app. This forces SEOs to think about their work differently, if zero-click search is increasing, SEOs will need to put more time into offsite rather than onsite, to improve rankings.
WordPress Proposes Blocking FLoC by Default
On Sunday 18th April, WordPress published an article stating that Google's Federated Learning of Cohorts (FLoC) should be treated like a security threat and blocked by all WordPress sites. For context, that's a whopping for 41% of all websites.
In case you've not heard of FLoC yet, it's Google's proposed alternative to third-party cookies. Cookies that Google intends to block in Chrome by this time next year.
We won't bore you with the detail, but a future absent of third-party cookies is a grim prospect to the online advertising world. Google intends FLoC to achieve similar results, however, while better protecting the anonymity of web users.
The problem is, FLoC is not without its critics. In fact, this and Google's other bird-themed answers to Cookiepocalypse have been widely slated, including by the Electronic Frontier Foundation who stated "Google's FLoC is a terrible idea".
WordPress is now a prominent voice in this conversation. In their article, they state FLoC could lead to forms of discrimination and aid advertisers that wish to prey on "unsophisticated users". They also cite privacy concerns.
WordPress's proposed solution? A few lines of code that would disable FLoC altogether on WordPress sites!
This is far from a done deal, but it does pile more uncertainty on FLoC and what's next for how the internet will deal with a future free of third-party cookies.
PPC Updates April 2021
Google Ads Is Rolling out Auto-Applied Recommendations
Google this month announced the official launch of auto-applied Google Ads recommendations, but this might not be the smartest way to spend your money. Google now allows advertisers to opt-in to apply a certain subset of recommendations automatically to your account. Google said this "can improve your account performance and save time," but many agencies will probably recommend that their clients do not opt-in as some of the recommendations may not actually improve account performance.
Google said the auto-applying recommendations will not increase your budget, "so continue to review the Recommendations page to ensure your budget isn't limiting your performance."
Going into next month, we are interested to see how the gradual rollout of the page-experience update will occur and how it'll affect businesses, stay tuned for next month's search round-up where we'll report back. In the meantime, get in touch today and  speak to one of our SEO experts – we'll get you found in no time.