As we delve into 2020, marketing strategists from all over will need to consider the current trends and upcoming projections when deciding how to invest time and money. To help aid marketers who are tackling this task, we've put together a comprehensive list of all the statistics you need to know in order to understand the current social media landscape.
Social Media Trends in 2020
Before we get into the thick of it, there are a few aspects of social media as a whole to be aware of. One significant change affecting most channels is the ease with which people can shop. Ads with CTAs to 'Shop Now' or 'Buy Product' are becoming more and more visible on Facebook, Instagram and Pinterest. The folks at Instagram have even said that more that than 130 million users tap an image to reveal product details.
Another must-mention is Instagram's huge 'hidden likes' move. In a social media world filled with influencers and micro-influencers, this decision came as something of a revelation. Starting in the US, it's likely that the number of likes will be hidden across the board in an effort to tackle social media pressures and mental health.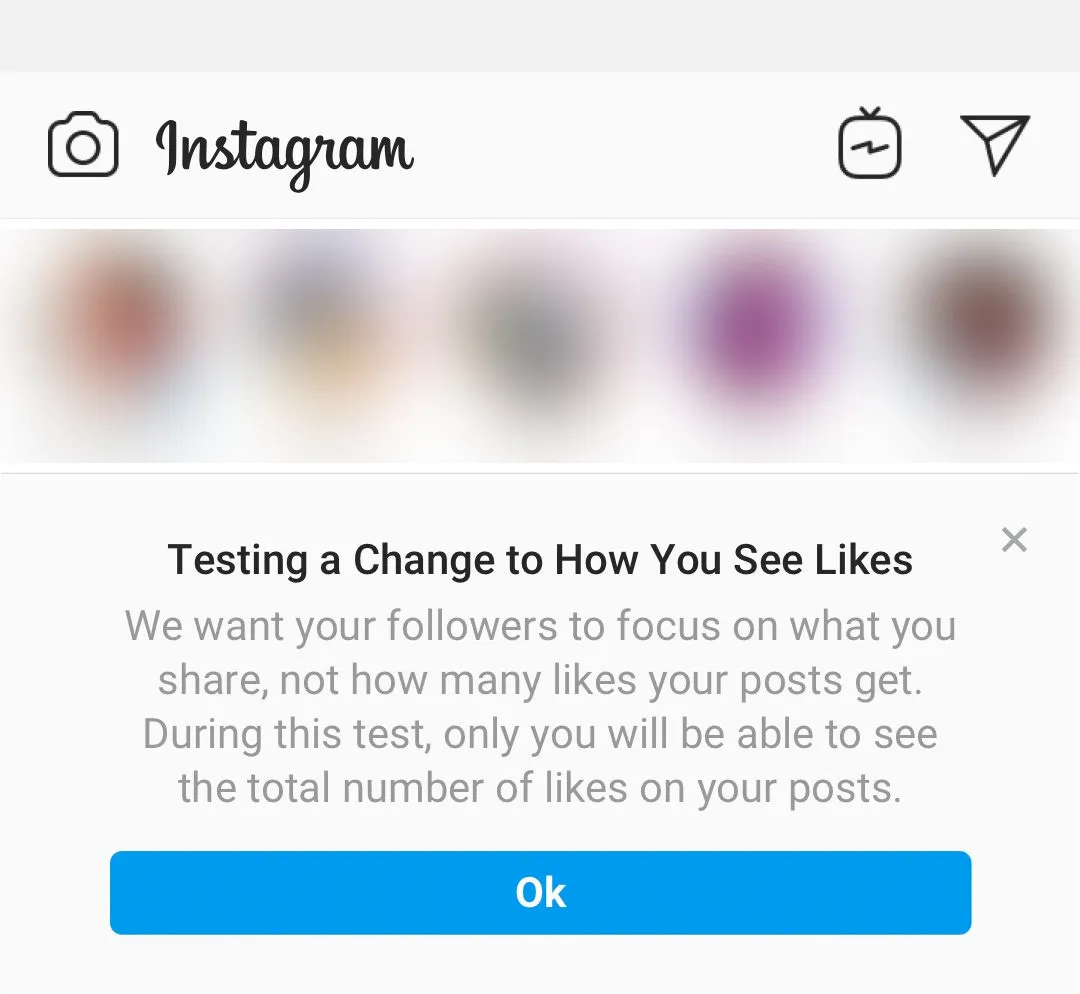 Facebook also had its fair share of limelight in 2019, but for the wrong reasons – data breaches. In April it was announced that the data of millions of users – in fact 540 million records – had accidentally been 'exposed to the internet'. Then, in September, 419 million users' phone numbers were mistakenly leaked. 2019 was quite a year for Facebook, as Mark Zuckerberg was called in and out of Supreme Court, and the company was charged a $5 billion fine.
2019's Social Media Fun Facts
In 2019 the world of social media saw a few fun and unexpected events:
On January 4th 2019 a photo of the great Instagram egg was posted by an account known as @world_record_egg. It quickly gained world fame and became the most-liked post on Instagram -– beating Kylie Jenner's photo of her daughter Stormi. Today,the photo has more than 54 million likes.
Jennifer Aniston broke the record for fastest Instagram account to reach 1 million followers when she joined, doing so in just five hours and 15 minutes.
Ramen repair videos went viral. The first ramen repairman is said to be Xiubrandrng in China, who posted a video on Chinese app Douyin, of fixing a sink by filling the breakage with noodles. Since then these videos started popping up all over social media.
As well as wild and wacky social media landscape, take a closer look at what happened in the world of the four big players, Facebook, Instagram, YouTube and Twitter.
Facebook 2020 Statistics
Facebook has 2.41 billion monthly active users
Facebook is the world's third-most visited website
Facebook has its 16th birthday in 2020, on February 4th
On average, Facebook users spend 38 minutes per day using the platform
1.4 billion people use Facebook Groups
42% of users took a Facebook break in the last year
The most talked about event on Facebook in 2019 was #internationalwomensday
90 million small businesses use Facebook
An average, Facebook users click on 11 ads per month
Instagram 2020 Statistics
Instagram has 1 billion monthly active users
500 million people use Instagram Stories every day
200 million users visit at least one business profile daily
One-third of the most viewed stories are from businesses
Instagram is currently hiding 'like counts' and video 'views' in 7 countries
41% of Canadian content creators said engagement dropped after 'like counts' were hidden
Instagram is expected to reach 112.5 million U.S. users in 2020
In 2020, Instagram users are expected to spend an average of 28 minutes per day on the platform
Instagram's potential advertising reach is 849.3 million users
Twitter 2020 Statistics
Twitter has 145 million daily active users who see ads
30 million (or 20%) of Twitter's daily users are from the US
After the US, Twitter's biggest audience is from Japan
Twitter's site referral traffic is up 6%, year-over-year
Twitter users are more likely to like brands that are inclusive and transparent
Twitter ad engagement is up by 23%
Twitter ads that use videos are 50% cheaper in cost-per-engagement
Tweets with hashtags get 100% more engagement
YouTube 2020 Statistics
YouTube has 2 billion logged in monthly users
People upload 500 hours of video every minute
On average, users spend 11 minutes and 24 seconds on YouTube every day
More than 70% of YouTube traffic comes from mobile
73% of adults in the US use YouTube – which is more than Facebook at 69%
81% of 15-25 year olds in the US use YouTube
250 million hours of YouTube watch time is happening on connected TVs each day
Best Social Media Platforms 2020 – Statistics Revealed
Looking at the evidence, it's clear that Facebook is still firmly in the lead as a popular social media platform, at 2.41 billion active users.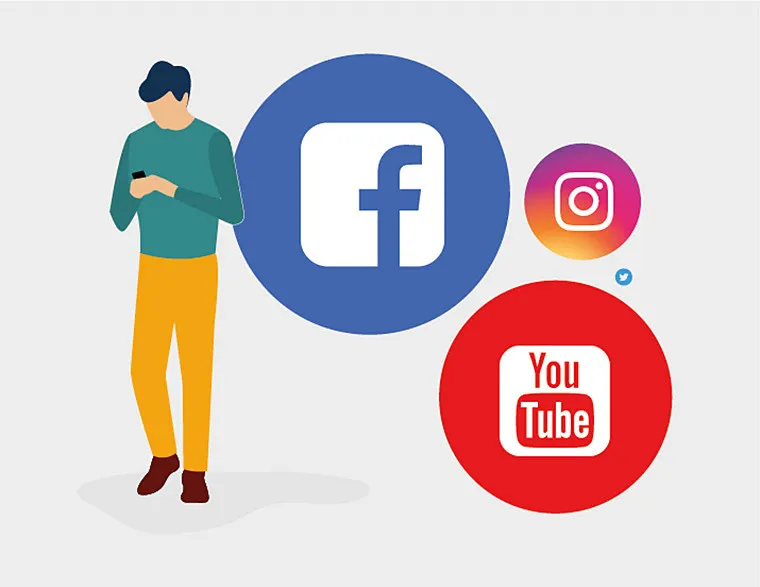 Over the years, their viewers have grown steadily. Take a look at their average monthly users each year, over the last decade:
End of 2009 – 360 p mnth
End of 2011 – 608 p mnth
End of 2012 – 1,056 p mnth
End of 2013 – 1,228 p mnth
End of 2014 – 1,393 p mnth
End of 2015 – 1,591 p mnth
End of 2016 – 1,860 p mnth
End of 2017 – 2,129 p mnth
End of 2018 – 2,320 p mnth
End of 2019 – 2,498 p mnth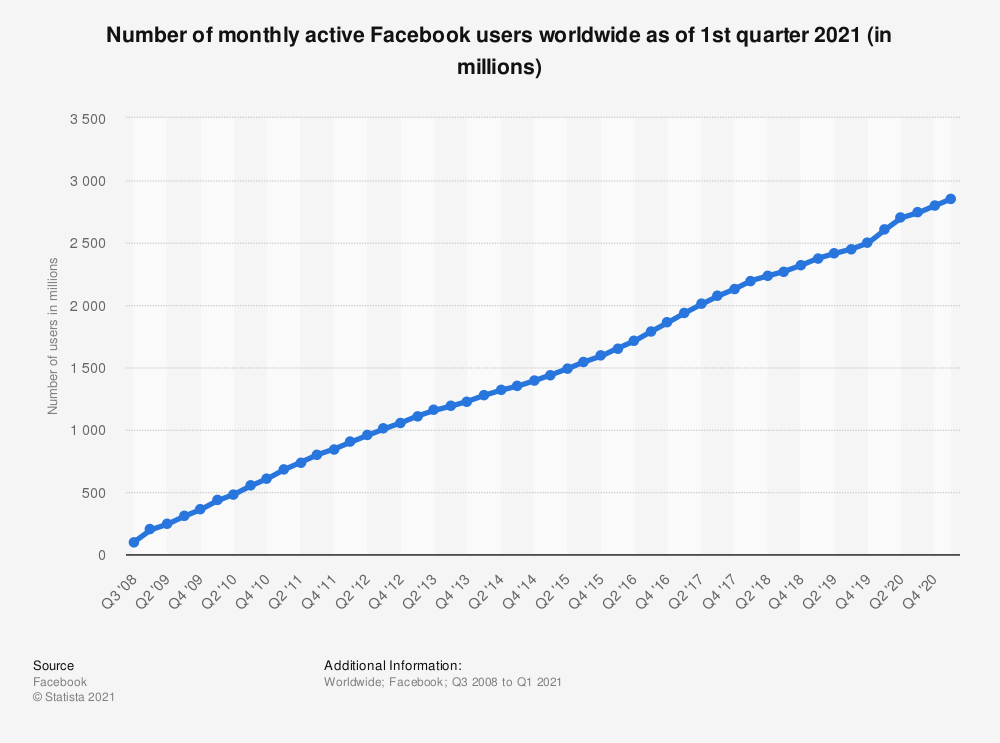 Find more statistics at Statista
Facebook's continued growth illustrates the fact that it's still worth investing time and money into Facebook marketing. In spite of its age, the platform is far from dwindling in popularity.
This year, in addition to the big four, there are a few more social media platforms to consider using. One to watch is certainly TikTok. Launched in 2016 in China, it was released to the rest of the world in 2017. By the beginning of 2019 it was the most downloaded app on the Apple Store – with 33 million downloads in just three months. It's essentially an app with which users can share short videos, using music and filters, similar to Twitter-owned Vine.
The growth of TikTok is indicative of an overall trend; that is the rising trajectory of video content. With shorter attention spans and a need to convey information quickly, it's no surprise that a significant proportion of social media users are engaging more with videos than other content. In fact, 56% of all internet users watch videos on Facebook, Instagram, and Twitter.
Staying on Top of Social Media Changes
Armed with knowledge about the current trends in Social Media, it should be possible to define a well-thought-out and effective marketing strategy for 2020. The trick is to stay on top of the most recent changes and developments, and always be ready to adapt as necessary. Understand more about how to use social media in the most valuable way by learning about the rise of micro-influencers, and how to adapt to Instagram's 'no-likes' change. Stay tuned to our blog page for more.
Sources
https://blog.hootsuite.com/facebook-statistics/
https://sproutsocial.com/insights/instagram-stats/
https://blog.hootsuite.com/instagram-statistics/
https://blog.hootsuite.com/twitter-statistics/
https://blog.hootsuite.com/youtube-stats-marketers/
https://www.oberlo.co.uk/blog/tiktok-statistics
https://www.microcreatives.com/general/social-media-content-trends-2020-infographic/