UPDATE 16/02/18: The Google Search Console Beta has now been expanded to include its new AMP Status Report. Read more here.
Webmasters and SEOs rejoice! It's been a long time coming, but Google has finally almost updated Google Search Console (the artist formerly known as Google Webmaster Tools). As of the 7th February 2018, Google's new look Search Console is in public beta, promising new features and more juicy data.
Where is the new Google Search Console beta?
The new GSC won't show up automatically. You've got to go to click into one of your properties (websites) and there you'll find a link to the new dashboard at the top of the left-hand menu.
If you're anything like us, the first thing you'll do is ask yourself 'where is all the stuff?' Remember, this is still in open beta; there's a lot of functionality missing. We'll be sure to update this blog as more functionality is added to GSC.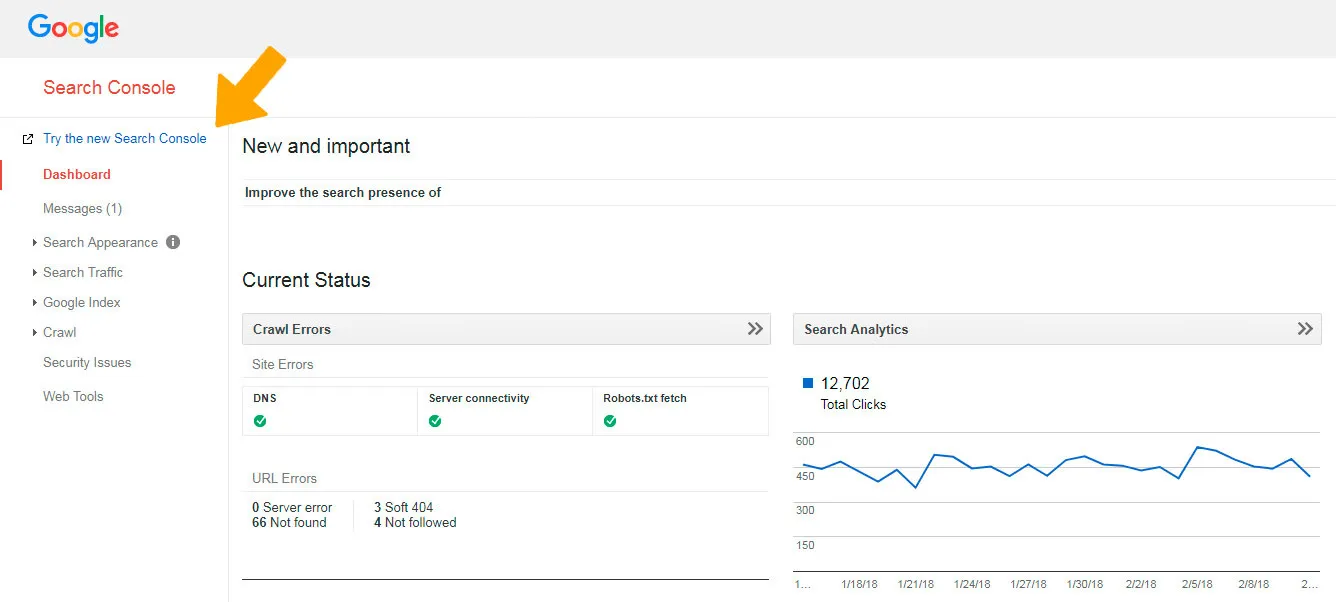 So, what's new with Google Search Console?
So far, Google's public beta includes the Search Performance, Index Coverage report and the AMP Status report. While this isn't the full suite of Google Search Console's offering, the Search Performance report is the one that search marketers have been most anxiously awaiting and is much improved.
The Index Coverage and AMP Status reports also demonstrate big strides in the functionality and practical usability of Search Console.
As far as we know, a new job posting report is due to arrive in the beta soon along with – presumably – all the other features available in the current GSC.
New Google Search Console Search Performance report
Google's new Search Performance report is similar to the Search Analytics report, but it gives 16 months of data. The report lets you see average position, clicks, CTR and impressions.
You can dig down into the details thanks to filters and segment by query, device type, page or country. Google indicates this data will also soon be available via the Search Console API.
Here's the exciting bit: We've done some initial testing, comparing the figures in Google Search Console to the near accurate data collected by Google Analytics. These are no means rigorous tests at this stage, but initial signs are good. We found that the numbers are a lot closer to the real numbers.
It's still doesn't seem great for websites with smaller traffic volumes, but signs point to a much more usable feature.
New Google Search Console Index Coverage report
The Index Coverage report shows you how well Google is indexing your siteover a set time frame. It lists properly indexed URLs and gives warnings about indexing issues.
All of this is backed up with handy explanations for why Google is not indexing some URLs.
Clicking on any error URL will bring up links to diagnostics tools, as well as a way to resubmit the URL for indexing. The data can also be exported for deeper analysis.
The nuts and bolts of the new report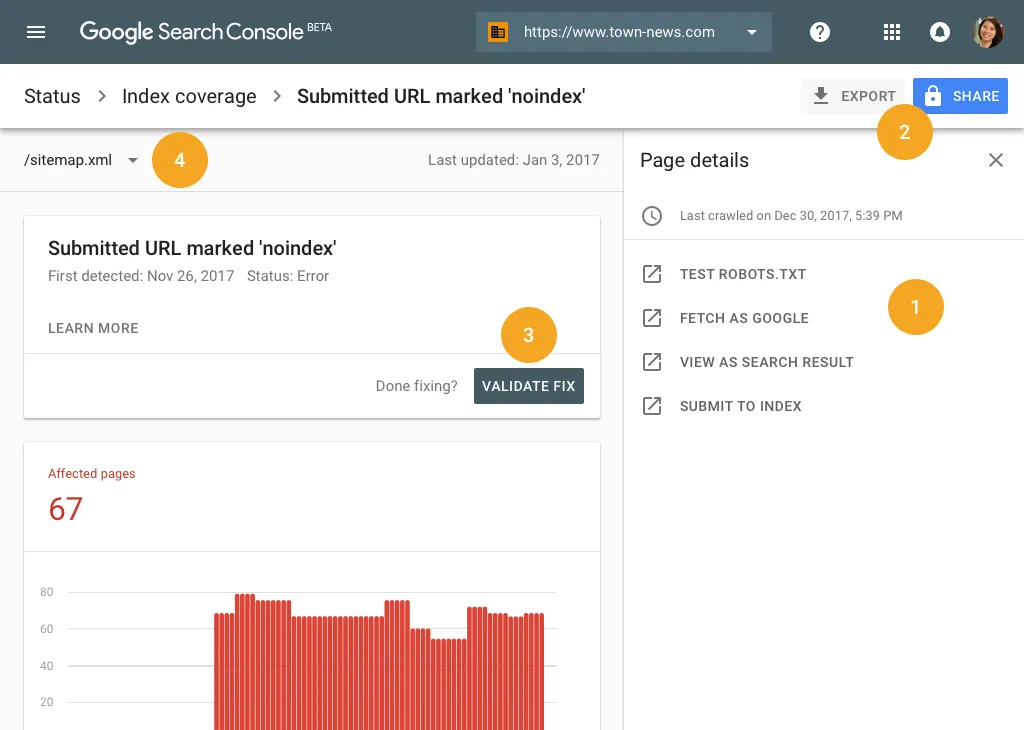 1. When you start to drill down into a specific issue, you'll see a sample of URLs from your site. Clicking on error URLs brings up the page details with links to your diagnostic tools to fix the problem.
2. The new Search Console reports can be shared to your team members and stakeholders. Hit the button to create a shareable link to the report.
3. Once an issue is sorted, click validate fix. Google will then crawl and reprocess the affected URLs with a higher priority, helping your site to get back on track.
4. Get the most out the Index Coverage report by submitting sitemap files. Once you've submitted a sitemap file, you can use the sitemap filter over the Index Coverage data, so you can focus on an exact list of URLs.
NEW Google Search Console AMP Status Report
Since the Accelerated Mobile Pages (AMP) Project kicked off in October 2015, over 31M domains have adopted AMP*. It's no surprise, therefore, that Google have made this report a prominent part of their new GSC beta.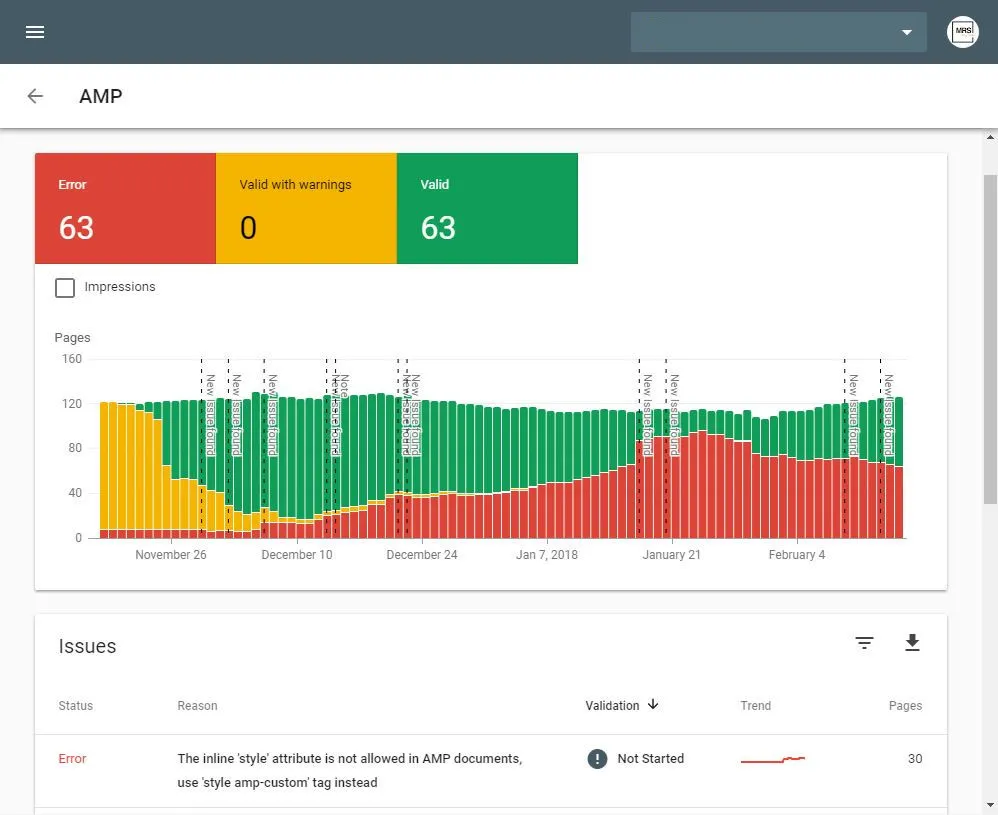 The new AMP Status Report lets you see exactly which of your website's pages are AMP valid alongside AMP errors and warnings.
GSC now gives you a fairly precise description of each error, plus details of every page on which it has been found and the over-time trend in the occurrence of this error.
What's more, once you have pinpointed an error, Google Search Console allows you to easily share detailed sub-reports.
Finally, once corrected, you can prompt Google to validate the fixed errors/warnings. This will allow Google to be more responsive to changes on your site that are critical to its AMP status.
What does this mean for search marketers?
"I don't want to get my hopes up, but this could be BIG for SEO."

– John, Strategy
If you're not already using GSC, then maybe now is the time to get on it. In its current form, Google's Search Console is outdated and notoriously inaccurate.
But, with the changes that are being tested by Google, this could once again place GSC as a must-have in any online marketer's toolkit. Here's what you've got to look forward to:
Better accuracy This could make or break GSC as a functional tool for SEO. If, as it appears, the updated Search Console is significantly more accurate, then this will be what will cement its place up there with Google Anlaytics as must-haves for marketers and webmasters.
More transparency In recent years Google seems to be intent on keeping you away from its inner workings unless you're paying for its services. In a shock move, this looks to be a reversal of this trend and could spell a massive change for your average SEO.
Trend analysis With data from a greater time frame, Search Console will allow for users to better analyse longer-term patterns in their search visibility and web traffic.
Quicker error identification and fixing The new features will almost certainly help improve the process of identifying, communicating and fixing site issues.
AMP is here to stay If there was any doubt that Google was committed to AMP, here is further evidence that their Accelerated Mobile Pages project is not the flash in the pan that some seem to think it is.
More features More functionality and more control for webmasters is never a bad thing.
How to use Google Search Console for SEO
It's been 7 years since Google stopped providing detailed keyword data in Google Analytics, leaving SEOs scrambling around trying to identify where their traffic has come from.
Google did leave behind some scraps for us in the form of Google Webmaster Tool's search performance report. Unfortunately, this was horrifically inaccurate to the point of uselessness.
But for those who are thirsty for insight Google Search Console, as it is now known, had it's uses. These only stand to improve with the imminent updates:
Mapping search queries to website traffic Google Search Console is one of the few tools that give you any kind of definitive data on what keywords are delivering what traffic to your website. Although it's currently inaccurate, GSC can help assign value to your targeted search terms.
Identifying new or long-tail keywords to optimise your content for Got a page that is ranking well? Check it out in Google Search Console and you may just find some new terms that you didn't know it was ranking for, including valuable long-tail or question based terms. This opens up the opportunity to improve your content with these in mind.
Spot winners and losers in SERPs Google Search Console offers you average positions and clickthrough rates (CTR) for your keywords. With this data in hand you can begin to work out which search results are underperforming in Google Search Results Pages (SERPs).For example, this can let you address the issue by looking at how appealing your titles and meta descriptions are. This data has historically been hard to trust due to inaccuracy, but with the update we are hopeful that this will become more usable.
We can't wait for the full roll-out of the new Google Search Console. It's too early to tell, but the early signs point to greater accuracy in the tool, and this has always been it's biggest failing.
Give it a few months, let the SEO community get their hands on it for some large-scale data analyses and let's see what happens.
Only time will tell whether Google Search Console will transform the lives of search marketers or whether if it will be another case of Google teasing us with what could be.
*https://amphtml.wordpress.com/2018/02/14/ads-and-amp/