What happened on social media in June 2020?
This month there have been a lot of new updates across the social channels. Facebook launched WhatsApp Pay in Brazil, Instagram made changes to its platform after the eruption of #BlackoutTuesday, which dominated social media on June the 2nd, and TikTok finally launched their business platform specifically for marketers. Read on for a closer look into social media updates for June 2020.
Facebook Updates June 2020
This month, Facebook launched its 'Summer for Support' programme to provide digital marketing training to businesses.  As explained by Facebook:
"We're bringing free, digital marketing education to businesses all over the country. So join us for six weeks of digital training classes, insightful interviews with business experts, and presentations from renowned entrepreneurs – all to help businesses get back to business."
Facebook also made the announcement that it's updating its colour palette options for groups,  in order to help users who are colour-blind or vision-impaired. As you can see below, the new options will provide more contrast, making it easier for people to see. In total there will be 15 colours to choose from and you'll be able to let Facebook create a custom colour for your group.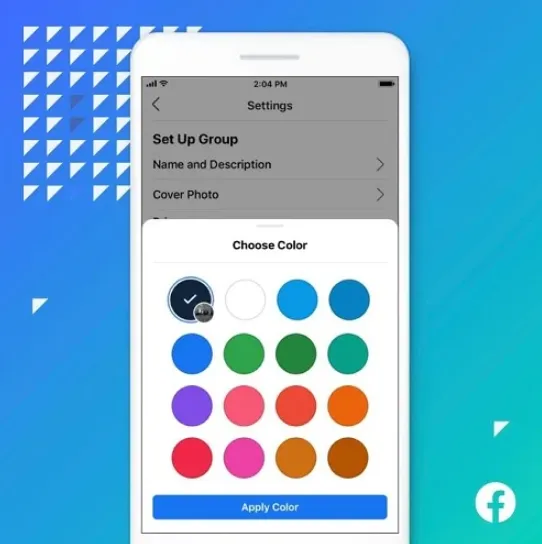 In addition to this, this month Facebook proposed new legal action against fake engagement sellers and data scraping. Fake followers and engagement has been a massive issue in the social media landscape, with influencers being able to fake their way to the peak of their career.
As explained by Facebook:
"The defendant's service was designed to evade Instagram's restrictions against fake engagement by mimicking the official Instagram app in the way that it connected to our systems. The defendants did this for profit, and continued to do so even after we sent a Cease and Desist letter and disabled their accounts."
Instagram Updates June 2020
This month, Instagram enabled new capabilities for new advertisers. This is an important change in the way paid advertising works on Instagram. As reported by AdWeek, Instagram will now allow new advertisers in some regions to create Instagram ad campaigns without having to link to a Facebook page.
As explained by Instagram:
"You can now create Instagram ads without having a presence on Facebook. If you are promoting a post from your Instagram business account for the first time, you won't have to connect to a Facebook ad account or Facebook Page."
As a business-owner, to promote your Instagram post independent of Facebook, you will need to:
Go to your profile
Tap the post you'd like to promote
Below the post's image, tap 'Promote'
Fill in the details of your promotion by setting things like 'Destination' (where to send people), 'Audience' (who you want to reach), 'Budget' (how much you want to spend daily) and 'Duration' (how long you want your promotion to run). Tap 'Next' once you've completed these details
To complete your promotion, tap 'Create Promotion' under 'Review'
Instagram, as always, has also made updates in line with June's Pride month celebrations. These include rainbow hashtags, new stickers and effects, and tools to add to stories with visual AR effects. In addition to this, they have launched a wellbeing guide for the LGBTQ+ community to show additional support.
The platform has also outlined the steps they're taking to address potential areas of racial inequality on the platform, not long after #BlackoutTuesday dominated our feed on June 2nd. Instagram chief, Adam Mosserim, published an IGTV video about the #BlackLivesMatter protests across the US this month.
 

 

 

View this post on Instagram

 

 

 
In an effort to end race-related issues on Instagram, the platform is planning to tackle four key areas; harassment, account verification, distribution and algorithmic bias.
Twitter Updates June 2020
Twitter finally launched audio clips in Tweets on iOS after the platform shared testing last month. They have enabled the option to add 140-second audio clips to Tweets among a selected group of users on iOS.
You can Tweet a Tweet. But now you can Tweet your voice!

Rolling out today on iOS, you can now record and Tweet with audio. pic.twitter.com/jezRmh1dkD

— Twitter (@Twitter) June 17, 2020
In Other News
In June, TikTok finally launched their business platform created specifically for marketers. The platform provides tips, notes and case studies to help businesses understand how they can make best use of TikTok for their promotional content.
As June comes to an end, we're looking forward to seeing the further evolution of social media channels through the coming summer months. Stay tuned for our guide to future updates in the world of social media.
---