Positive reviews of your business help attract new customers, demonstrate the good parts of your business and give people a reason to visit. While it's well known that good reviews help, particularly local ones, Google Reviews' role in influencing your rankings in search results is up for contention.
That's why we're here to answer the question: do Google Reviews help or hinder SEO efforts?
Read on to discover how Google Reviews impact your organic visibility and local rankings and finally, how to manage reviews.
Do Google Reviews Help SEO?
As with anything SEO, it depends. The consensus is that, yes, Google Reviews do play a role in your rankings but are simply one piece of the much bigger puzzle. There are many ranking factors to consider when optimising for search, so while Google Reviews alone won't suddenly land you at the top of page one, it may be a contributing factor that you need to consider in your local SEO efforts.
Google Reviews & Your Local Ranking

Local search visibility, particularly for start-ups or SMEs, is valuable for many businesses. Getting in front of local search and potential local customers can provide endless opportunities for you and your business, helping to drive conversions and traffic.
But knowing how best to utilise this opportunity and deliver on your SEO strategy can be challenging. This is where Google Business, and as part of that, Google Reviews, comes in. From Name, Address and Phone (NAP) citations to appearing in Google Maps, Google Business' role in local SEO shouldn't be ignored.
There are many elements to Google Reviews that may have a bearing on your position in local search that you need to consider, including:
Average Star Rating
The average star rating found alongside Google Reviews is a ranking factor to consider when it comes to your local SEO efforts, impacting both trust and your local rankings. On a scale of 1-5 stars, Google will determine your star rating using your reviews and its algorithm.
On a Google Search Central SEO Office Hours on the 6th of August 2021, John Mueller did confirm that while Google doesn't take star ratings into search rankings, it may impact local search results:
Even though John Mueller didn't provide a definitive answer here, it's clear we should be at least considering the role of the average star rating of Google Reviews on your local visibility.
Map Pack
Another element to consider when it comes to Google Reviews, and Google Business profiles in general, is your position in the Map Pack. Google's Map Pack is the highest position on Google's local search results and getting your business to appear here is key for local SEO. Here's an example of local plumbers: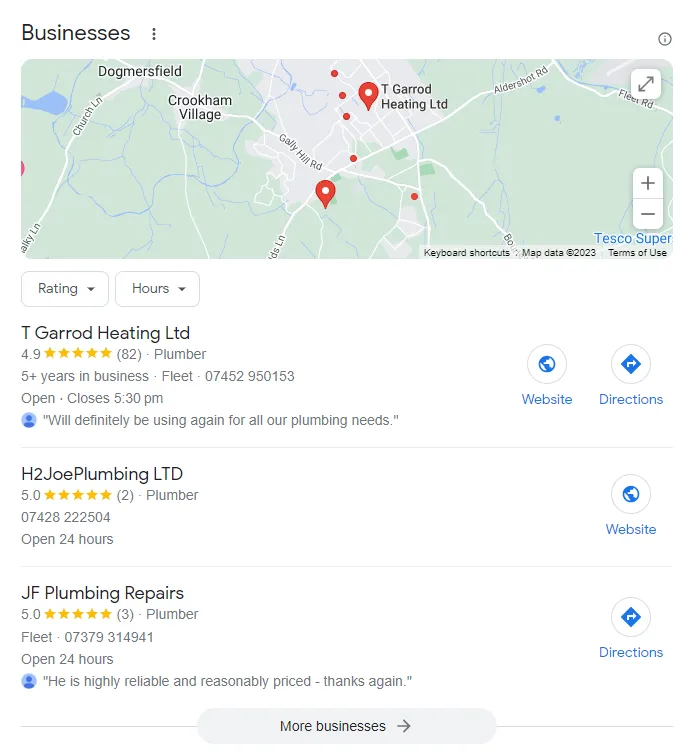 For any business to rank high in the Map Pack, it will need to employ local SEO strategies. When optimised correctly, the Map Pack can be a successful driver of organic traffic to a website.
Improving Trust in Your Brand
While not strictly a ranking factor when it comes to local SEO, Google Reviews are certainly a trust factor and one that should be used to its fullest potential. Having good reviews, and a lot of them, will enhance trust for users and ultimately lead to more clicks through to your site.
Managing Google Reviews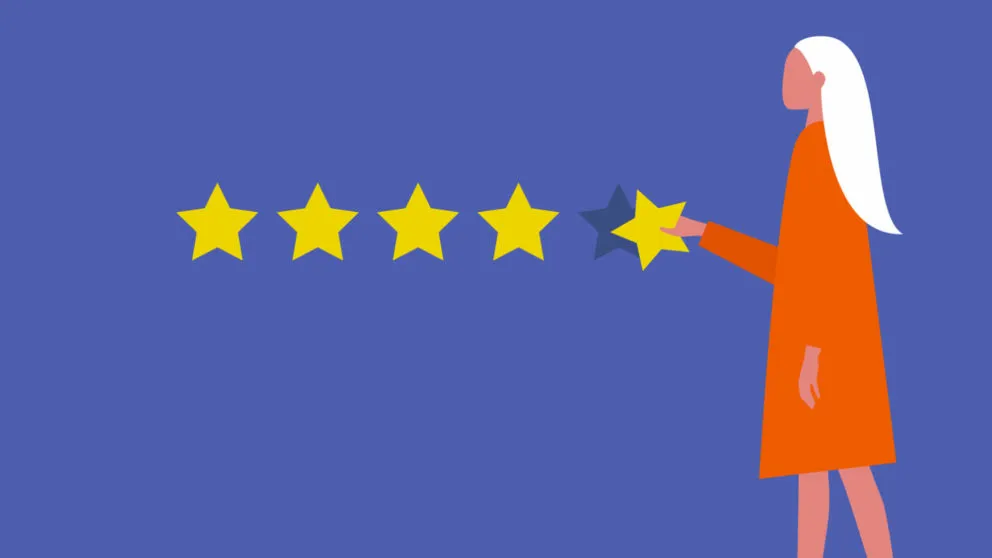 So, we know that Google Reviews may help with your SEO efforts and are certainly a ranking factor to take seriously. But how should you manage them?
Setting Up & Optimising Your Google Business Profile
Managing your Google Reviews should be an ongoing process, but there are some initial steps you need to take if you are new to it.
The first step is to set up your Google Business profile, or ensure it is up to scratch, optimising your Google Business with your up-to-date NAP (Name, Address, Phone Number) and making sure your photos are as good as they can be, for example.
Ongoing Google Reviews Management
Once you've got your Google Business up and running, you're now ready to request reviews or manage those already on your profile. You may decide to check your reviews ad-hoc, or schedule time each week to go through your reviews and respond to your customers. It's up to you, but the ongoing management of your Google Reviews should be at the forefront of your local SEO strategy.
Google Reviews FAQs
Does Responding to Google Reviews Help SEO?
There's plenty of anecdotal evidence to suggest that responding to Google Reviews can help SEO. However, Google has never confirmed this suspicion and we don't have any data to back up the notion that measurable improvements can be achieved with SEO as a result of responding to reviews.
Having said that, it's probably wise to err on the side of caution. Whilst responding to Google Reviews might help your SEO, it's good practice anyway and we would always advise doing it.
How Do I Respond to Negative Reviews on Google?
One thing is for certain, you shouldn't ignore negative comments left on your Google Business Profile. We encourage you not to shy away from bad reviews and respond calmly instead. This will paint your business in a positive light and as one that wants the best for your customers.
How Do I Get Google Reviews?
The answer is simple – don't be afraid to ask. While many of your reviews may be naturally generated from customers unprompted, there's no harm in asking your customers to leave a review. In fact, Google encourages it!
According to Google, here are best practices when it comes to getting reviews:
Verify your Business Profile – this means you'll be visible on Maps and Search.
Remind your customers – let your customers know how easy it is to leave reviews (without offering incentives, as Google explicitly says that's against their guidelines!)
Reply to your reviews – this helps to build trust and position your business as one that values customer feedback.
Value all your reviews – Google states that a mixture of both positive and negative reviews may work in your favour, appearing more trustworthy to users.
Learn more about getting Google Reviews
Can I Delete Google Reviews?
In short, no, you can't delete Google Reviews. It's important to be transparent, something both Google and your customers will value. Following our advice above, take the time to respond to negative, or unexpected, reviews where possible.
It's worth noting, however, that if you suspect a review doesn't follow Google's posting guidelines, such as deceptive content or civil discourse, then you can request its removal.
Google Reviews & Local SEO – The Verdict
So, there you have it, Google Reviews are clearly a vital consideration when devising any local SEO strategy. Taking the time to manage your Google Business profile and keeping on top of your Google Reviews should be an important step in your SEO efforts, but remember, for an effective local SEO strategy, you need to cover all bases, including relevancy, distance and prominence.
Get in Front of Local Search with MRS Digital
Looking to dominate local search? Look no further. Here at MRS Digital, our team of experts know just what you need to make your local SEO work for you. Get in touch to discover how.