What a month! June has been an algorithmic rollercoaster, and with so many other updates coming our way, this is a round-up you'll want to pay attention to.
A Pause on Cookiepocalypse – Google Delays Cookie-Blocking Plan by Two Years
Cookiepocalypse – the controversial plan for Chrome to block third party cookies – may be on its way, but for now, we have a bit more time to wait. This month, Google announced that it will be delayed until 2023 (as the advertising community breathes a collective sigh of relief).
FLoC (Federated Learning of Cohorts) that was posed to replace cookies on Chrome, received a lot of criticism, including WordPress threatening to treat it as a security threat, and Amazon saying they will block it altogether .
From a marketer's perspective, Cookiepocalypse is a bit of a nightmare – third party cookies are currently used for ad retargeting and behavioural advertising, and so removing support for these could make advertiser's lives significantly more difficult. Not to mention it will cause issues with attribution modelling too as this data highly depends on cookies.
At present, we are awaiting reactions and exact solutions to third party cookie blocking.
Google Core Algorithm Update: June 2nd – June 12th
Starting off the month with a bang, Google announced it was releasing its first broad core algorithm update since December 2020. This was noted as being an unusually long period of time between core algorithm updates, and so it's fair to say that search marketing specialists collectively were feeling apprehensive at the changes that this would bring.
This wasn't the be all and end all though. Just as quickly as Google announced the June algorithm update, they informed the world that another algorithm update was imminent, and would be rolled out at the start of July. Their reasoning? They ran out of time for the June update:
Some of our planned improvements for the June 2021 update aren't quite ready, so we're moving ahead with the parts that are, then we will follow with the rest with the July 2021 update. Most sites won't notice either of these updates, as is typical with any core updates….— Google SearchLiaison (@searchliaison) June 2, 2021
When it comes to the winners and losers of this Core algorithm update, it appears that industries most impacted negatively according to Semrush were:
"Sites within Jobs & Education, Business & Industrial, and, curiously, our winning sector, Food & Drink, experienced the biggest position drops a few days into the update."
When it comes to those who experienced positive movement, Semrush found that: "Sites that saw the biggest visibility gains mainly belonged to the Food & Drink, Law & Government, and Internet & Telecom sectors."
As always, the key with Core algorithm updates is not to make any rash changes as a result of volatility in search. If your website is negatively affected, Google's guidance remains the same as it has been in the past – to ask yourself the following questions and re-evaluate your site.
Page Experience Update: June 15th – E.O August
The page experience update is now slowly rolling out (Top Stories will begin using this new signal by Thursday). It will be complete by the end of August 2021. More here: https://t.co/kDwhhOYklK— Google Search Central (@googlesearchc) June 15, 2021
After an initial delay, the long-awaited Page Experience update finally began to rollout as of June 15th and will be complete at the end of August 2021. If you've somehow not heard of this update or Core Web Vitals yet, we explain everything here in our Page Experience Update Guide – now is a good time to have a look!
In addition to AMP no longer being essential for ranking articles in Top Stories, this algorithm update means that page experience, from a technical point of view, is now becoming more of a significant ranking factor. By the end of August, the update will begin to take into account all core web vital metrics, such as LCP, FID, and CLS.
Those who may see a shift will likely be those competing with websites that offer differing page experiences. For example, if your website and your competitors provide similar services with well targetted content and established authority, you or your competitors are likely to shift up and down in the rankings depending on who offers a better page experience.
To improve your website's Page Experience and Core Web Vitals, check out Google Search Central's guide to Page Experience Signals.
Spam Updates Part One (June 23rd) & Part Two (June 28th)
In their continued effort to fight spam, Google released a spam update in two parts to their systems as announced below:
As part of our regular work to improve results, we've released a spam update to our systems. You can learn more about our efforts to fight spam in this post:https://t.co/piCLhbZPkH

And this video below:https://t.co/xMYWm4HPze pic.twitter.com/83IL0EB9Lm— Google SearchLiaison (@searchliaison) June 23, 2021
Google proudly publicised back in 2020 that they had created a Spam Fighting AI to capture known and new spam trends, and are continually developing new ways to fight spam.
The search engine already estimates that 99% of searches are spam free due to their updates and existing platforms, so their new updates will hopefully eradicate spam as far as possible.
Most webmasters don't wish to harm or manipulate site users, however it's always good practice to refresh your memory on Google's Webmaster Guidelines for search and make sure you are following best practice to avoid inadvertent ranking loss.
…. and Everything Else
More Ways to Edit Business Profiles in Search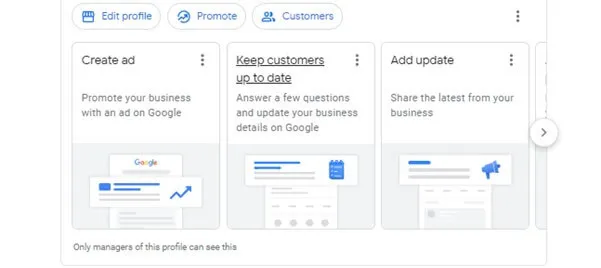 Google wants businesses to engage with their products in relevant spaces, which is why they've rolled out changes to allow businesses to edit more information without ever leaving search.
Now businesses will be able to add or edit more details such as contact information, opening hours and create posts to share updates right from Google Search. Below is an overview of all the actions that businesses can now take without leaving search results:
• Create posts
• Add/update services
• Accept takeout & delivery orders
If anything, this is a stark reminder of the importance and prominence that Google My Business holds in the search results. Ensure you have claimed, verified and optimised your Google My Business profile to make the most of your business' local visibility and access more options in search.
FAQ Rich Snippets to be Limited to a Maximum of Two Per Snippet
In June, Google has decided to reduce FAQ rich snippets to show a maximum of two questions below a search result snippet (see below), where previously they would show several.

Danny Sullivan from Google confirmed that the reason for this change was because they'd found two FAQ results were the most useful to users.
It's been largely noted in the USA at the minute, but it's expected to roll out globally. Google haven't said if this update is a slow roll out or not, so it's largely speculative at the minute.
If you've currently got FAQ Schema, it's worth revisiting your site and prioritising the FAQs that matter most to you.
Looking for More Expert Insight?
Do you want to remain competitive in search? Get in touch to speak to one of our SEO experts today.