What happened on social media in April 2020?
Another month into lockdown, and the world of Social Media is evolving more than ever. This month, we see all the social channels adapting to the current circumstances with ways to encourage people to #StayHomeSaveLives. Facebook Messenger has a new WHO 'Health Alert' Bot to Provide COVID-19 Information, Instagram launched a new 'I Stay Home For' sticker to promote COVID-19 containment, and LinkedIn enabled its 'LinkedIn Events' option, which is available to all company pages and designed to help businesses stay connected during lockdowns.
Facebook Updates April 2020
You may have noticed a large 'F' in the middle of your lower function bar on the Facebook app this month. Explained by Matt Navarra on Twitter, Facebook is testing new formatting options – which haven't gone down that well. Alongside this, in April, Facebook began testing longer-lasting stories, with an option to keep them live for three days.
Facebook rolls out new "Quiet Mode'
As well as these roll-outs and tests, this month Facebook added a new 'Quiet Mode' option to help manage time spent on the app. In the current circumstances, people are using their social media apps more than ever, and so 'Quiet Mode' was added in hope of controlling this usage. As explained by Facebook:
"As we all adjust to new routines and staying home, setting boundaries for how you spend your time online can be helpful. We've added Quiet Mode, which mutes most push notifications, and if you try to open Facebook while in Quiet Mode, you'll be reminded that you set this time aside to limit your time in the app. We've also added shortcuts to Notification Settings and News Feed Preferences, so you can make the most of your time on Facebook by controlling the type of posts you see in your News Feed, as well as the updates you receive."
If you want to activate 'Quiet Mode', simply open the app, click the menu button on the far right hand bottom of your screen, open the 'Settings & Privacy Menu' and click 'Your Time on Facebook'.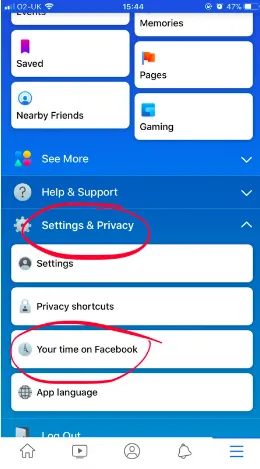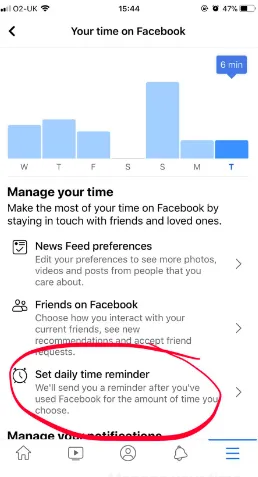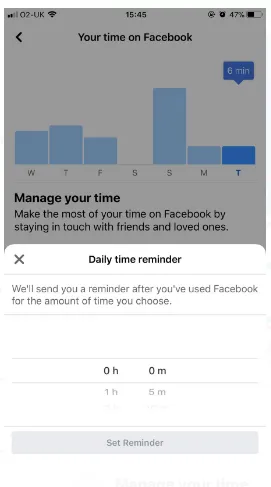 Facebook during coronavirus
Facebook is also putting in their best efforts to help with everything COVID-19. The Facebook Messenger app has partnered with the World Health Organization to launch a new chatbot on Messenger, which will provide users with accurate and up-to-date information about the COVID-19 pandemic. In addition to this, Facebook have also provided a new set of templates to help companies and brands communicate key business updates during this time.
Instagram Updates April 2020
Instagram rolls out DM access via desktop
It's been a very busy month for Instagram! They've finally rolled out DM access via desktop, which could really help social media managers streamline their processes. This was a long-awaited update from the social network that has proven positive for the platform. Alongside this, Instagram has also started giving users the option to view Instagram Lives on desktop too. This came shortly after the DM roll-out, and given that the majority of people have to stay at home right now during the COVID-19 lockdowns, a lot more people are viewing video content on their desktop PCs – so it makes sense that these changes have recently arisen.
Instagram during coronavirus
Also, in-line with current affairs, Instagram has also launched two new stickers for stories this month. The 'Thank You Hour' and "I Stay At Home For' stickers have both been launched to encourage people to stay home. As explained by Instagram:
"Today we're launching Thank You Hour, a sticker in stories that lets you show gratitude for what's helping you through this time. Use the sticker and your photo or video will be added to a shared Instagram story at 7 p.m. your time, where friends can see your thanks."
"Add the Stay Home sticker to your story, tap it and you'll see the #IStayHomeFor option. From there, you can tag the people you love."
With the ongoing popularity of Instagram Stories and ephemeral content, Instagram understands that it's demographic is mostly the younger generation. From what the experts currently know, out of all age groups COVID-19 is least threatening to the under 40s, so by creating content that encourages the younger generation to stay home, Instagram are doing all the right things to help combat the ongoing outbreak.
Twitter Updates April 2020
In April, Twitter provided us with some effective poll tips on 'Good Copy vs Bad Copy,' and some helpful tips on new ways to engage customers through Twitter.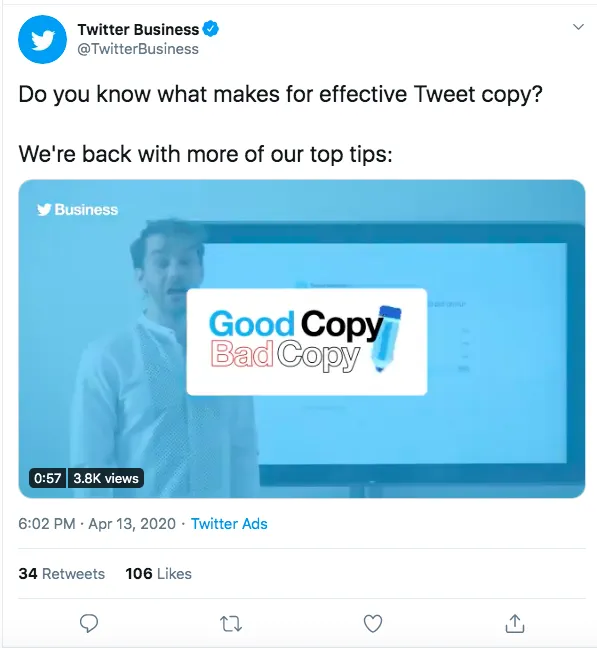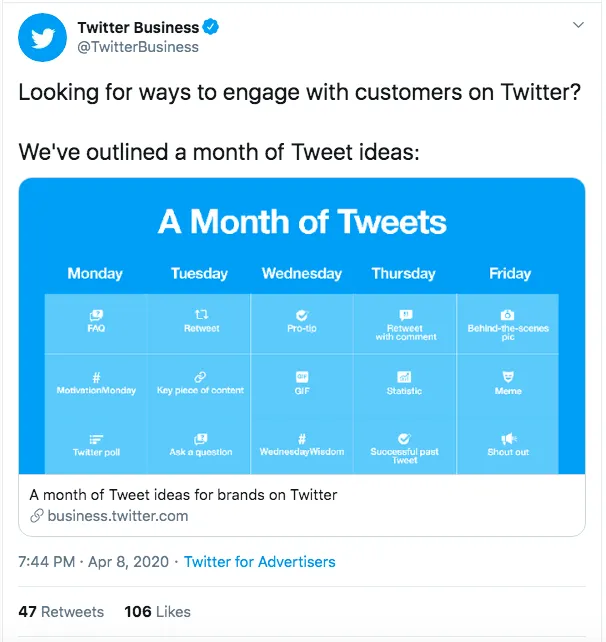 Twitter during coronavirus
Twitter shared a tweet at the beginning of the April stating they would be "offering their best tips for how to connect with your customers and your community during COVID-19." In aid of this, the platform conducted and shared a user survey to shed some light on what people want and expect from brands and their communications during COVID-19. Some of the key findings were:
77% agreed they feel more positively about brands making an effort to support society at the moment
64% said brands should continue advertising products as normal
52% agreed that seeing/hearing ads gives them a sense of normality
Only 7% of respondents said brands should continue using their normal brand tone of voice
LinkedIn Updates April 2020
It has been reported that in April, LinkedIn has been working on the creation of polls. While this has not yet been confirmed, you can see below (shared by reverse engineering expert Jane Manchun Wong) the new poll option would be made available within your post composer options.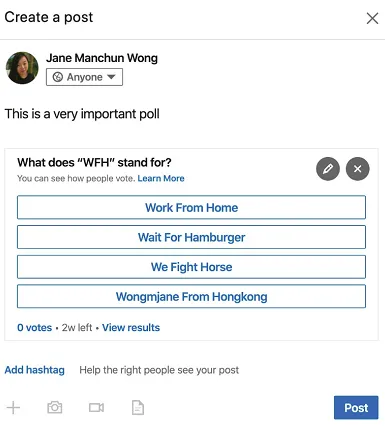 LinkedIn during coronavirus
LinkedIn publishes a special "Top Voices" listing dedicated to health professionals
In April, LinkedIn published a special "Top Voices" listing of health professionals that are leading the way during the COVID-19 crisis. This is focused on highlighting the health experts who are sharing their knowledge and experiences amid the pandemic. As explained by LinkedIn:
"Each year, our Top Voices list surfaces the professionals whose posts, videos, articles and comments spark quality conversations in their industries. This special edition list features the health care experts that are lighting up LinkedIn right now to cover COVID-19 – sharing what they' re seeing, what's coming next and offering insights on what all of us can and must do."
The list was released on World Health Day, and aimed to pay respects and promote those working on the front line during these unprecedented times.
Alongside this, LinkedIn also made its 'Events' option available to all companies, in hope of helping with connectivity during lockdowns. LinkedIn Events is a fairly recent feature that was first launched to select company pages in October 2019. Now, however, you can access Events on any LinkedIn company page. To create your own event, you can head to your company page admin tools on desktop.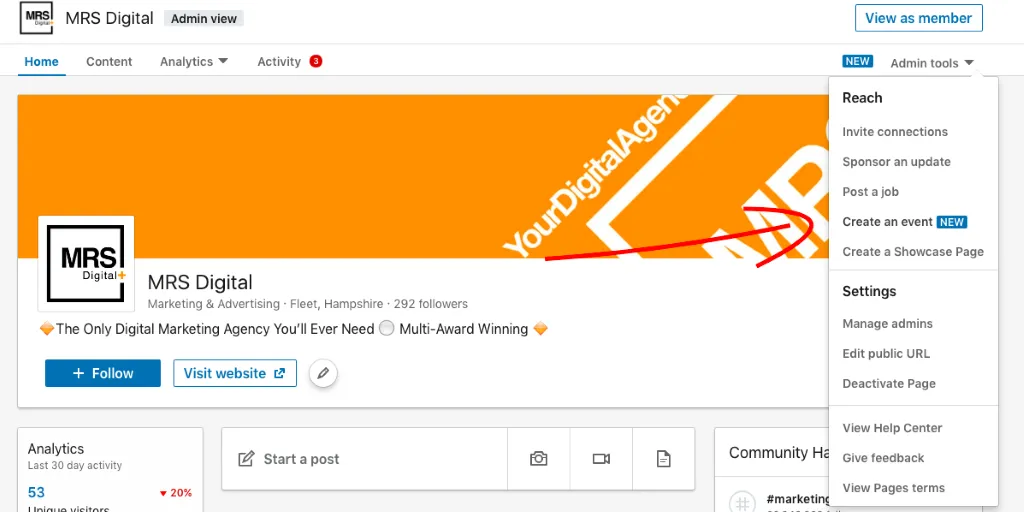 In other news
Snapchat has begun to provide tips to its audience for creating effective AR experiences, as usage of Lenses increases during lockdown. In a recent report from Snapchat, over 75% of its users engage with AR tools every day.
Multi-user video meeting app Zoom has seen a huge surge of app downloads amid lockdowns (10 million users in December, to 200 million in March). In light of this, they have announced the development of a security council to improve data collection and sharing processes.
As April comes to an end, we're eager to see what the rest of spring has in store for us – hopefully some more positive news surrounding lockdowns at least. Make sure you follow again closely next month to see our May Social Media round-up!